This shop has been compensated by Collective Bias, Inc. and its advertiser. All opinions are mine alone. #ad #HealthySavings #CollectiveBias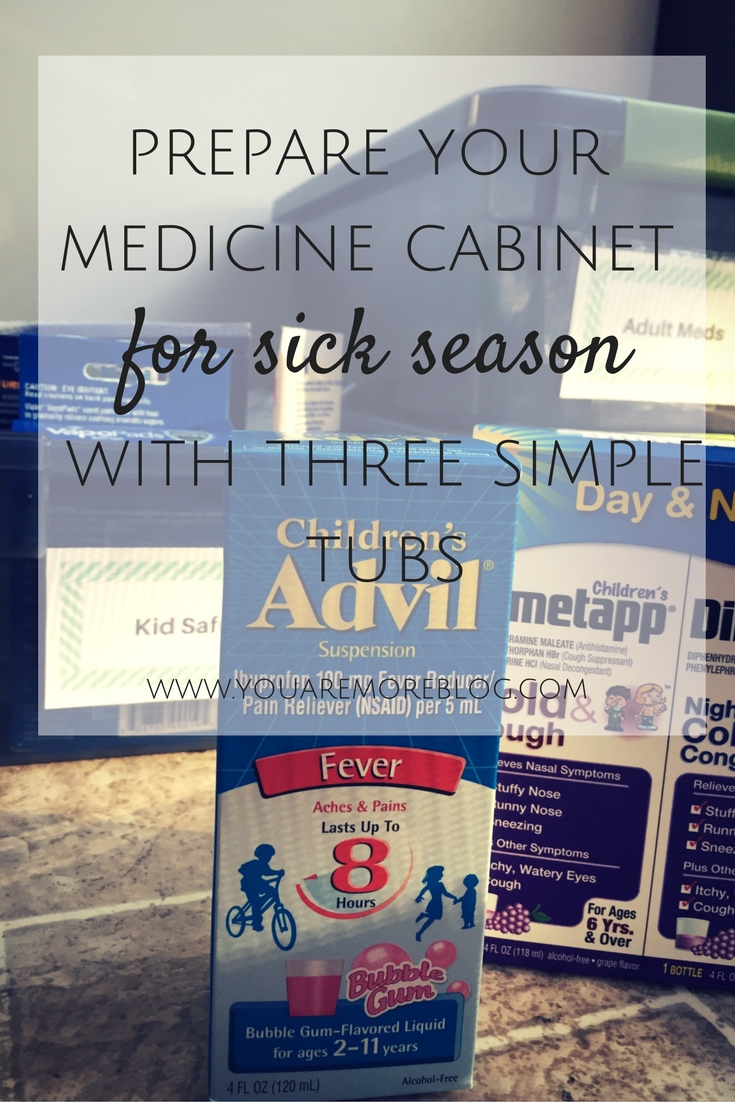 Sick just got real…literally. The weather around here for the month of November has been absolutely crazy. We have had so many days that feel more like spring than they do fall. The first of November my kids were wearing flip-flops. I am not even joking. But along with the unusual warm weather, we have also had the random roller coaster days in between. We go from 70 degree temperatures one day to a freeze advisory and a high of 40 the next. Every mom knows this is the worst thing to happen because of one big reason; sick kids.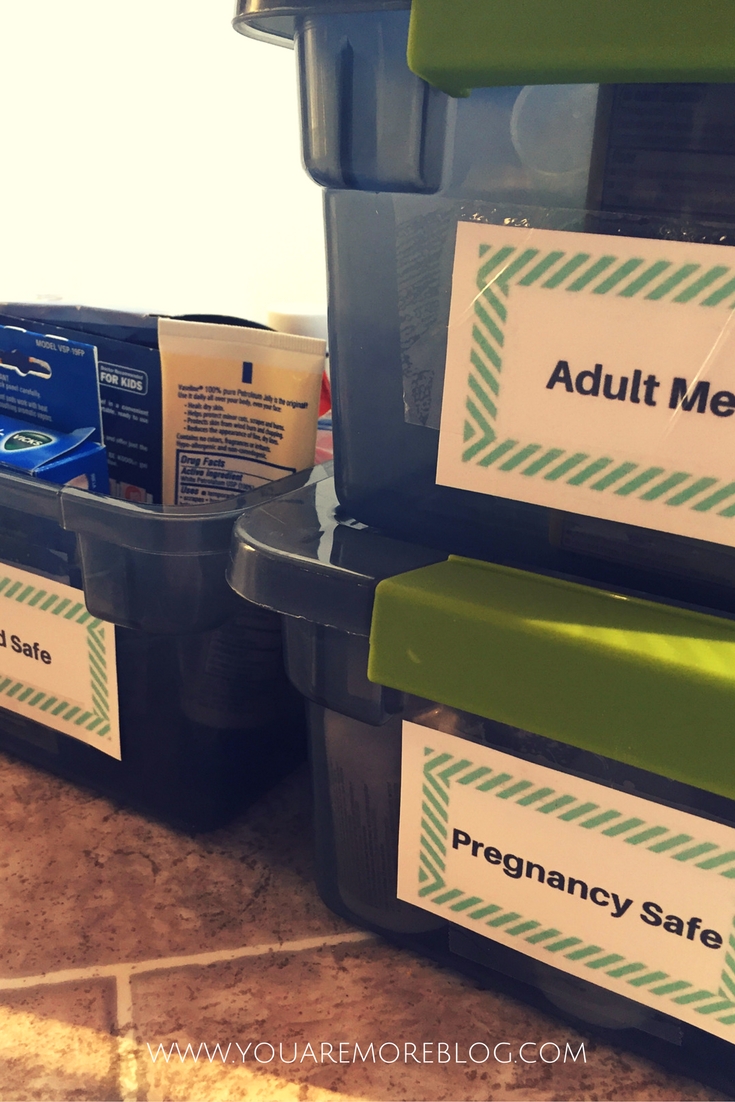 It happened. My kids have the worst colds. I have been wiping noses all day and my son is starting to look like Rudolph with his red nose and the dry skin from tissue. The fall season is known for its sickness and we are trying to stay ahead of it and get some relief.
When sick season comes I like to be prepared. It's no fun to have a sick and cranky kid and nothing on hand to help give your child some relief. To be ready with relief when sick hits I organized our "medicine cabinet" with our must haves for when the kids get sick. We actually keep all of our medicine in our hall closet on the top shelf because I felt like it's more out of the kids reach that way, and I didn't have to worry about them getting their hands on the medicine.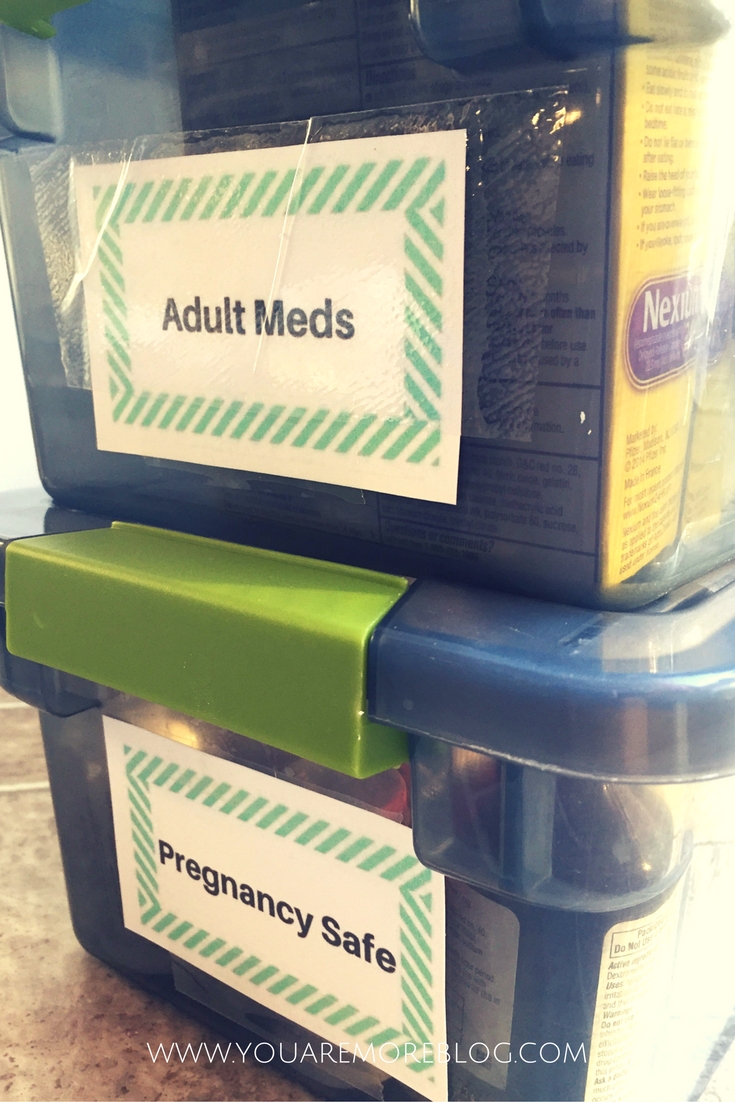 I organized all our medicine into three simple tubs:
1. Child Safe
2. Pregnancy Safe
3. General Adult Medicine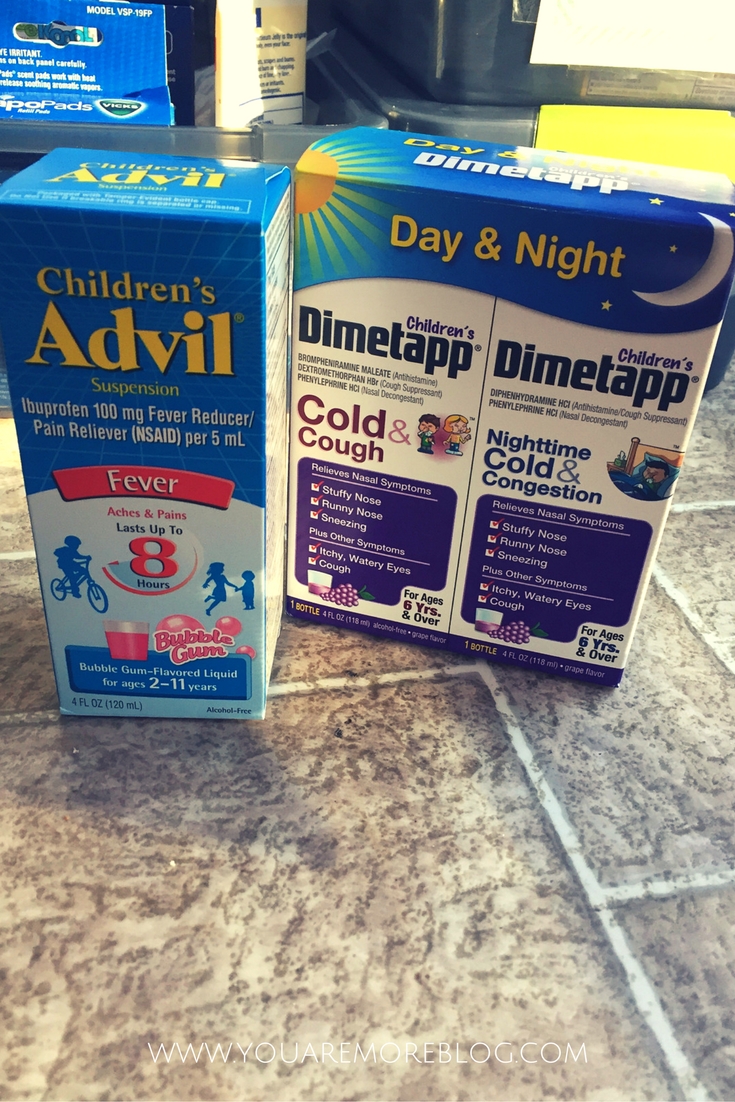 Next to not having medicine on hand when you have a sick child, the second most frustrating thing is not knowing what is okay to give your children. So when I've cleared medicine through the Doctor and I know it's safe to give to my kids, I put it in the tub labeled child safe. This way I don't have to worry about calling the doctor every time one of my kids are sick. Our doctor also gave us this handy dosing chart to know what dosage of what medicine we can give to our kids, you should definitely ask your doctor for one of those. I find it very helpful to use in addition to the product label with dosing instructions.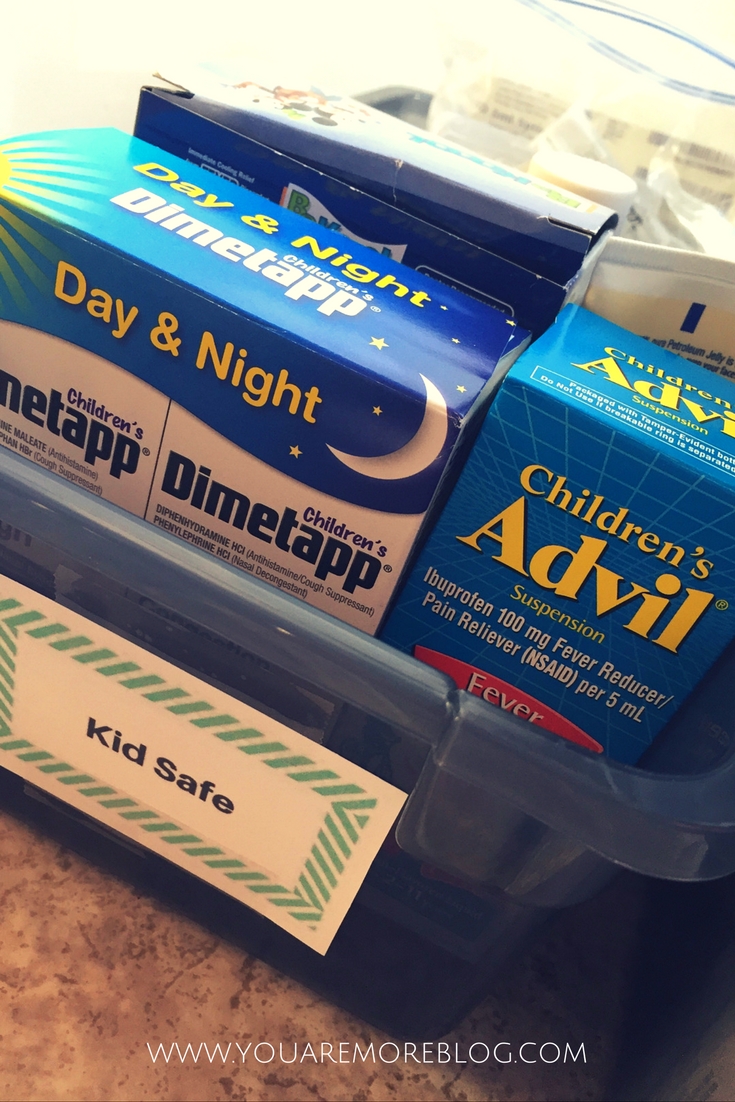 Go ahead and laugh at my pregnancy safe container, but I've been pregnant or nursing pretty much consistently for the last three and a half years. Pregnancy comes with some funny aches and pains and not to mention when you're sick and pregnant you can feel pretty miserable. So when I know something is okay for pregnancy, I set it aside in the tub so I know it's okay to use in the future.
Then I have our tub of general adult medicine. Usually I keep some of our must haves on hand for cold and allergy season and the occasional upset tummy. I keep this separate from the kid's medicine so I know that it's not something they can have.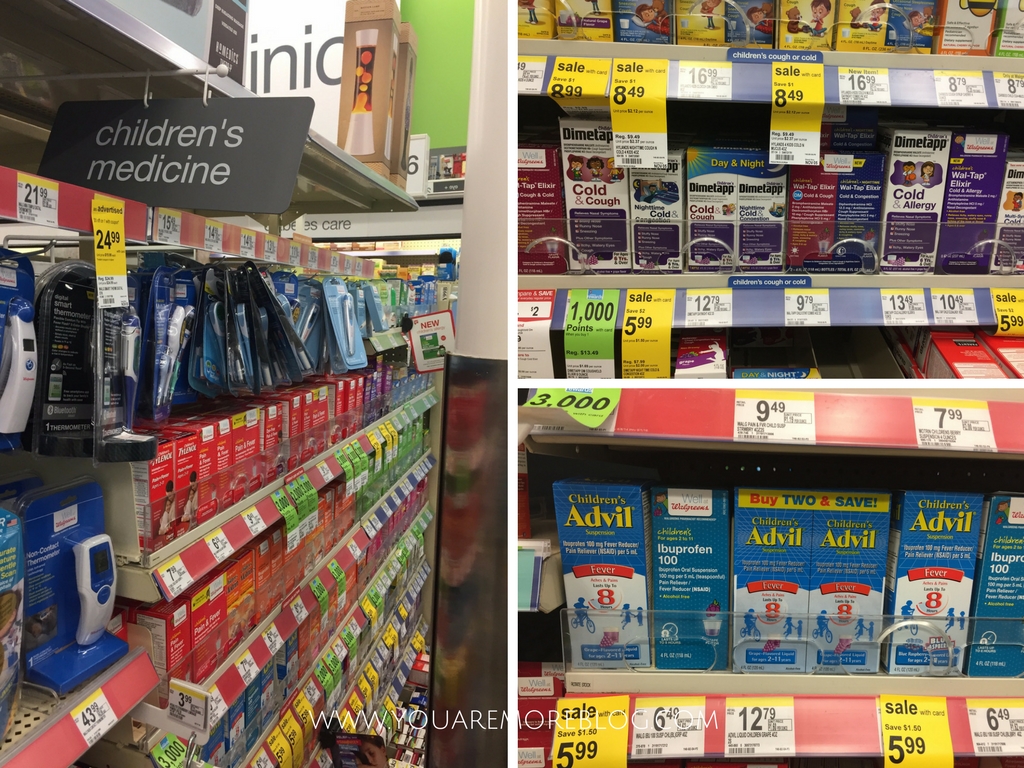 I generally find everything for our medicine cabinet at Walgreens. They have a wide selection of medicine, especially for children that I can't always find at our usual grocery store. Children's Advil® and Dimetapp are two of my must haves for the kid's medicine to have relief through the cold season. Children's Advil® delivers more effective, longer lasting fever relief with 40% less liquid medicine than Children's Tylenol.* Children's Advil® provides up to 8 hours of fever/pain relief with just 1 dose and should be used as directed. Dimetapp is great for children's cold and cough and is the #1 Pharmacist recommended brand for children's cough & cold combinations. Dimetapp has great tasting cold fighting power and should be used as directed.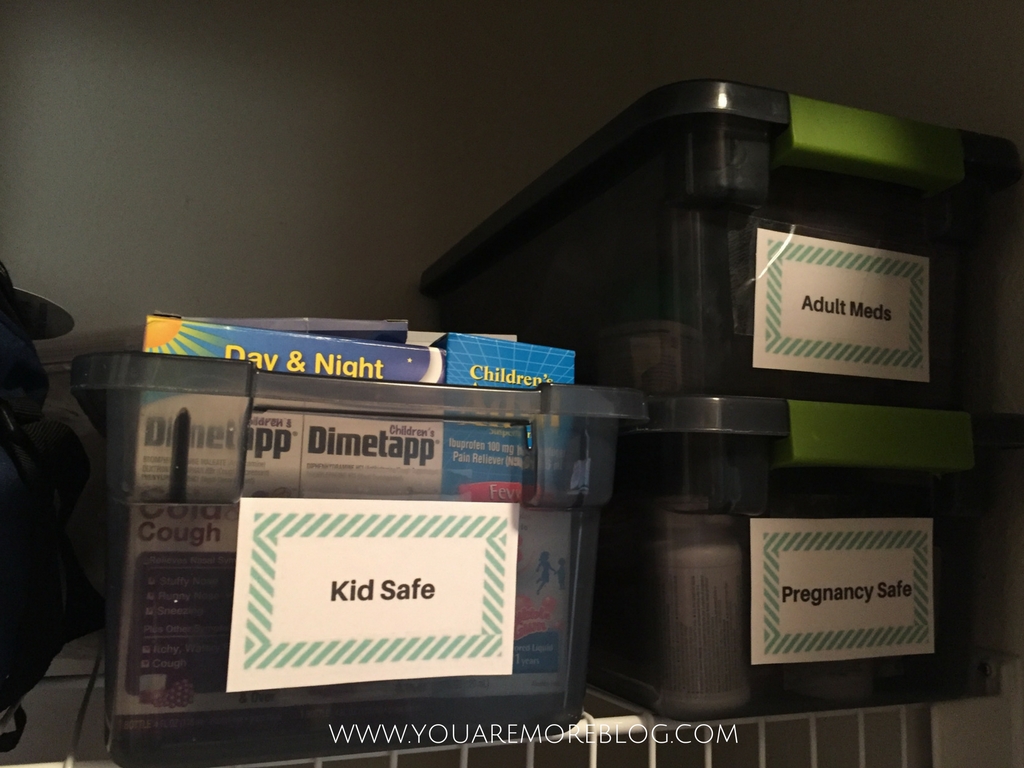 I've found that having all of this organized ahead of time really helps to be prepared. When sick gets real find easy relief in being prepared.
*Based on labeled dosing over a 24-hour period. See product label for complete dosing information
(Visited 186 times, 1 visits today)