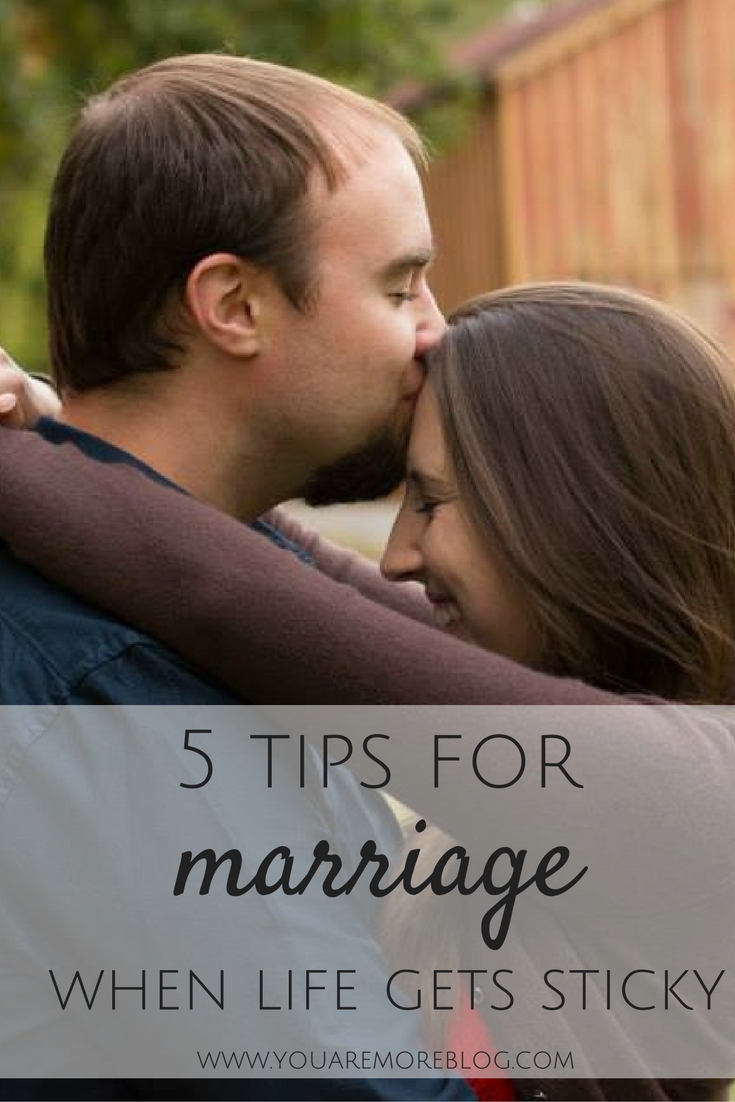 "For better or for worse." Those are words you here in the majority of wedding vows. Those are also the words that in many marriages seem not to stick anymore. They also hold to be very scary words in my book.
You see, the examples of marriages in my life had the tendency to lean toward that "worse" spectrum in a very extreme kind of way. I am talking pornography, affairs, abuse, lies, and a lot more. Recently I uncovered a fear from deep within my soul, did "for worse" in my marriage vows really mean that I would have to go through one of those very awful things? Was my marriage doomed to face an extreme hardship before I knew it was a solid marriage? I truly believed that to act out that vow in our marriage the unimaginable could happen, and I needed to be prepared for it.
Now, this wasn't to say I thought for any moment my husband would do any one of those things. I didn't. Not one bit. But I thought myself naïve for thinking that because I had not seen any different growing up. This lie was rooted in fear and I was just waiting for the "worse" to happen to us.
Until I uncovered that lie and exposed it to truth. The "worse" in my marriage isn't those extreme instances that I was lead to believe. The "worse" in my marriage could be those little things that make marriage a little bit sticky.
Have you ever gone through a sticky spot in marriage? Let me tell you what can be a little sticky. Bringing children into the world and having to navigate the new normal. Having less time for your husband and learning to be intentional about that time when children are around. Being without a job for some time. Struggling with infertility. Losing a parent. Losing a child. Suffering health issues. Suffering through health issues of a child. Struggling with anxiety. Financial struggles. Hard job situations. A busy season of life. Moving to a new city or state. Growing in your faith. The list goes on.
Sometimes the sticky happenings of life hit and they can tend to invade your marriage. This is where we hold true to our vow "for better or for worse" and cling to each other to make it through this sticky spot of life. This is what "for better or for worse" really means.
Here are five tips for making it through marriage when life is a little sticky:
Lots and lots of grace. You need to have grace for your spouse on both ends. My struggle with anxiety has made life a bit sticky. Some days I don't feel like the same person I was when I got married, and I expect that to wear on my husband. But it doesn't. All I see from him is a heart full of grace. When I'm having a hard day, when my anxiety seems to be on edge, when I return from counseling a little emotional, and when I don't understand what it is I am feeling he stands there full of grace accepting me right here in the mess. I, in turn, have to respond with just as much grace. I can't expect him to understand everything I am feeling or know exactly what to say or do. This is something we learn to navigate together. Life gets sticky and we need to open ourselves up to grace in our marriage.
Communicate. Whether it's anxiety, financial strain, a loss of a job, or whatever it may be communicating with your spouse is key. Sharing your emotions and feelings about life can keep the bond between you and your spouse strong. We are supposed to do life together, not apart. So talk through those sticky situations and be there for each other. That's what it's all about, "for better or for worse."
Don't fail to connect with your spouse. Be sure that you are setting aside the troubles of life and connecting so that your marriage continues to grow. If you aren't connecting, you'll grow apart. You must be intentional about connecting physically and emotionally. Sometimes it doesn't just happen, and that's life, so make it happen. Don't let the stickiness of life get in the way.
Support each other no matter what. Your spouse is never your enemy, you are on the same team. Support each other. One of the biggest things Chad has supported me in is my need for counseling through anxiety. Not only does this put a strain on our budget, but it also takes some of his time to make sure our children are cared for so I can be there. Never once has he complained about the amount of effort and resources it takes. He continues to support me and encourage me to do whatever it is necessary to battle this head on.
Love when it's hard, love when it's easy, love no matter what. When you're exhausted at the end of the day from caring for children, love your spouse. When you're burdened by the financial strain of losing a job, love your spouse. When you're suffering from a broken heart and confusion, love your spouse. Choose to love your spouse through all of life's ups and downs because you are on the same team. You are in this together.
Life got a little sticky when anxiety became a struggle for me. Anxiety invaded my life and in doing so it can impact every area, but I don't have to let it. Being intentional in marriage can help you through the stickiness of life. "For better or for worse."
Have you ever went through a sticky spot in marriage? Do you agree with these tips? What would you add to the list?
(Visited 285 times, 1 visits today)