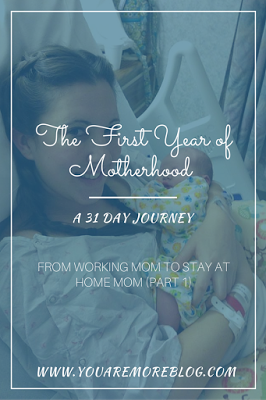 I want to write today about
something that I don't think too many people have ventured out to really talk
about in an unfiltered way. It's hard, to express the emotions and the ups and
downs that come with struggling with these feelings, but I think it's so
important because no one wants to feel like they are alone. So today I am going
to venture out and talk to you like we were sitting over a cup of hot cocoa
(it's cold outside and I HATE coffee, but because I am such a good friend you
can choose to drink coffee if you like).
When I was growing up I used to
tell my mom I was never going to be a stay at home mom. In my mind it was the
last thing I wanted to do. I am not entirely sure why. I was in a very
rebellious stage throughout high school that maybe anything and everything that
would have been what God was calling me to do was probably something I said I
was never going to do. I wanted more than anything to be a mom and to have
children of my own. I was the little girl who dreamed about being a mom, more
than about my wedding day. I loved taking care of kids and being the little mom
wherever I went. Being a mom was etched within my very DNA – if I felt someone
was not being a mother, I stepped right up to care for those around me. Fast
forward a few years later to a better place, and I wanted nothing more to be a
stay at home mom one day. I loved being a wife to my husband, I loved serving
in ministry together, I just loved everything we were doing in that season of
life I became so very comfortable in that season of life.
We started to look forward to the
season of having children. I couldn't wait to be a mom. I couldn't wait to be
parents and raise a child with my husband. I was ready. God didn't think it was
time quite when we did, but eight
long
short months later we found out we were
expecting our first, just when we had thought it wasn't quite time(funny how
God works). I continued on with life just as it had been going, I worked at
church part time, substitute taught on my off days and just began to prepare
for baby. Then the closer it got to the time of the baby being born the more I
started to feel this tug on my heart. I really felt God was calling me to take
a
huge step of faith and step down from my position at church.
My husband and I
couldn't make it on one income, we needed to be bringing in at least what I had
been making preferably more. I didn't like the uncertainty that all this was
leaving. I didn't know how it was going to work, how we would pay bills, what
my life would be like stepping down from something I had been a part of for
five years. The tug didn't stop; it just got stronger and stronger. I remember
sitting on the couch texting a friend with tears streaming down my face because
I thought that when this time came that it would be far easier than it was. I
wanted to be a stay at home mom so why was this so much harder than I expected?
I decided that my husband and I
needed to meet with my boss and talk to him about what God had placed on my
heart before I wasn't strong enough to get it out. I had this whole back up
plan to do home daycare to bring in the extra income and give me something to
do at home so that we would be able to make this work. So in response to the
tugging I stepped out and decided to step down from what I had known to be a
huge part of my life for so long. I knew nothing could be more important than
the time I would pour into my children at home. There was no doubt in my mind
that this was the right decision for us.
In the midst of stepping down, God
began to
stir so much more in our hearts.
My back up plan to do home daycare to
make up the income was thrown to the side as God decided to
move our family
to
accept a ministry position four hours north. The interview process was
happening while we were preparing to bring our son into the world so there was
no preparing for daycare. It was a big change coming all at once, a big change
as I prepared to step into the role of being a full time mom.
For the sake of this post not being
overbearing and long, be sure to check back tomorrow for part two.

(Visited 9 times, 1 visits today)