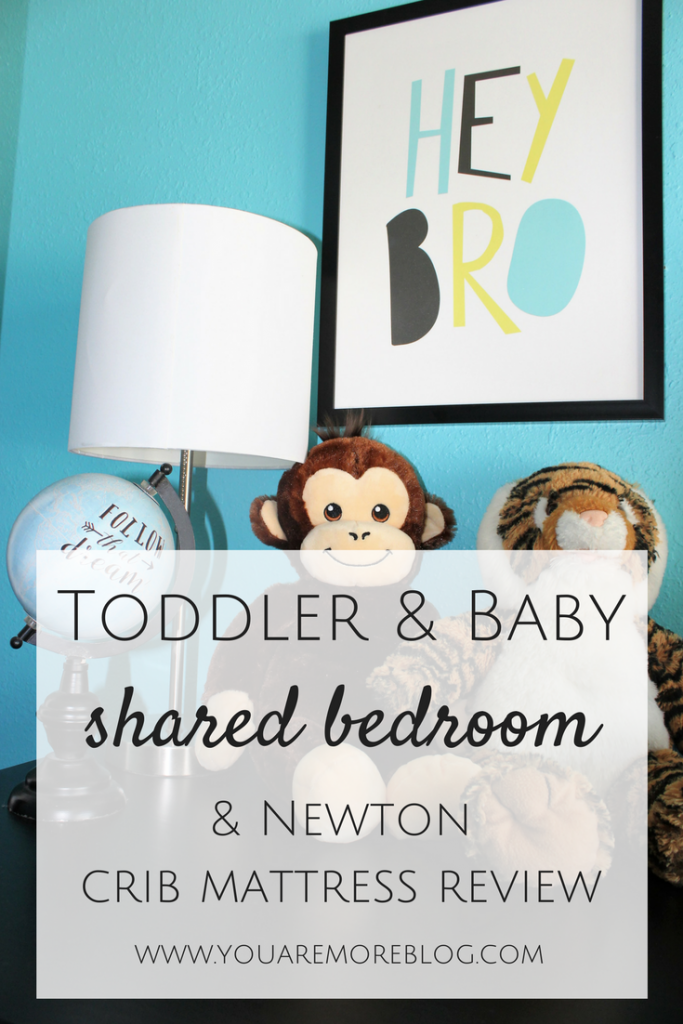 Thank you Newton Baby for providing the mattress for this post. All opinions are honest and my own. This post is sponsored by Activate on Bloglovin'. This post may contain affiliate links. If you purchase from these links I may earn a small commission that helps my family and this blog.
When we found out we were having another baby, we knew that one of the kids would need to share a room. We have three bedrooms on our main floor and an extra room in our basement that can't technically be considered a bedroom since it doesn't have a window. With the room downstairs not having a secondary exit or any natural light, I knew I didn't want to move either of the kids down there, plus it seems pretty far for our little ones.
Once we found out we were expecting a boy, Jase was pretty excited about the idea of sharing a room. I wasn't sure how we were going to make everything work in his room, so we started the process of setting up their room really early. I thought it would give Jase a chance to get used to the idea of sharing a room too. So we rearranged his room to fit the crib, bought a new dresser for the boy's to share, and redid their closet (post coming soon!) to fit both of their clothes.
I am pretty excited about how it all came together and I can't wait to watch the two of them grow up together sharing a room. There are always so many memories to be shared and stories to be told from sharing a room with your sibling, so I know they are bound to have many adventures. They aren't quite sharing the room 100% yet. I keep Jude with me at night since he can still tend to stir some nights, and I'm not ready to move him. I might keep him as long as he will fit in the bassinet. However, he is taking naps in their room all day except for when Jase has quiet time in there. Jase doesn't always nap and his quiet time can be…not so quiet, so I use that time to soak up some snuggles with Jude in the quiet while he still wants to snuggle his mama. They grow too fast guys, I don't pass up a chance to snuggle.
But he'll be in there soon enough and before I know it I'll be redoing the room to fit two boys, but for now I thought I would share the boy's shared toddler and baby room!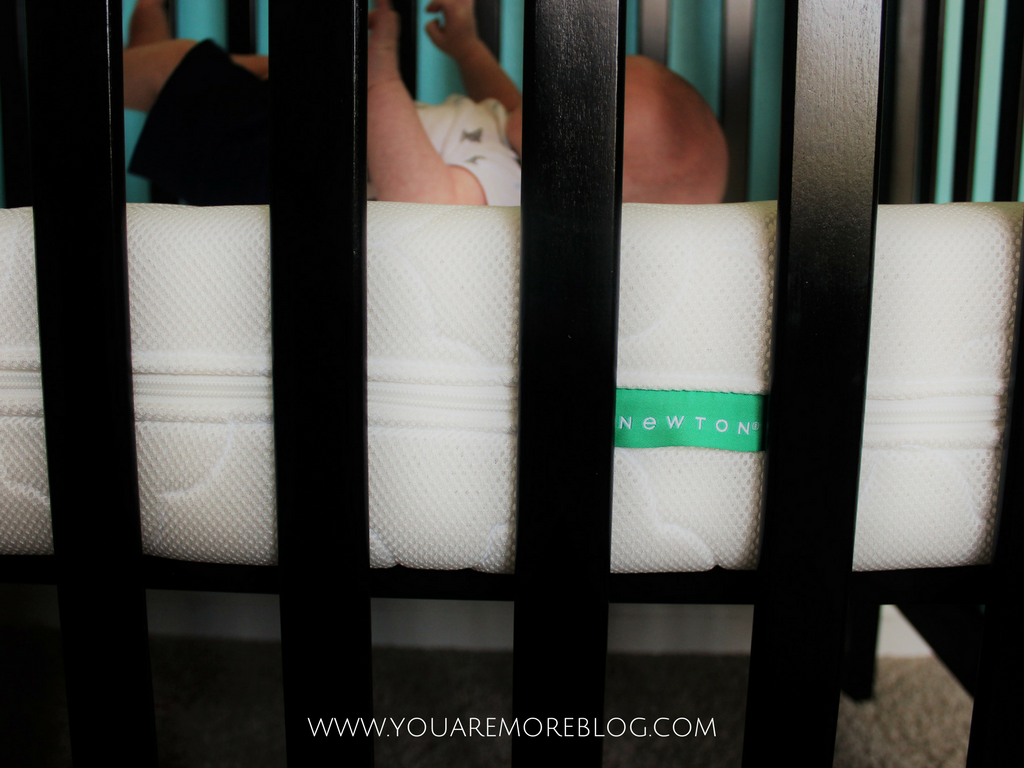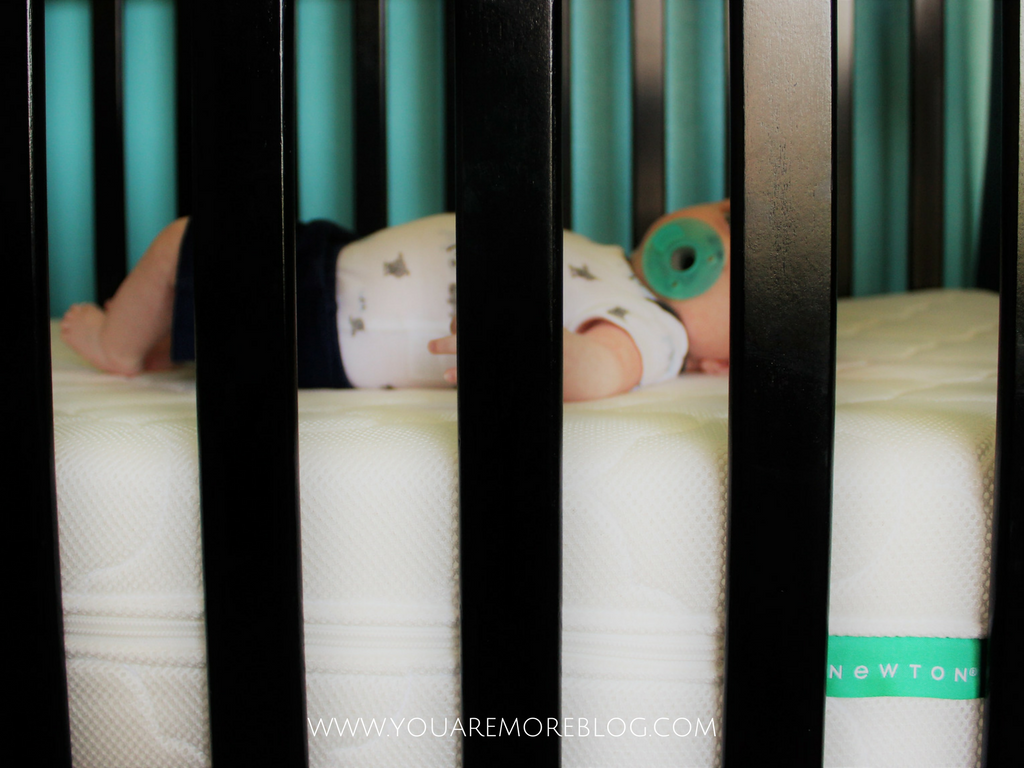 Jude's mattress is made by Newton and I absolutely love it! It comes with a fully removable and washable cover which every mom knows that alone is enough to buy this mattress…babies are MESSY. The Newton Crib Mattress was designed to allow air to flow freely through the mattress for optimal breathability and temperature regulation. Newton's core is made of 90% free air and 10% food-grade polymer. It also contains no foam, latex, springs, glue, or allergens and is 100% recyclable. Not to mention, it's super comfy! Jude has slept AMAZING on this mattress and we have little to no issue with him napping. We swaddle him up and he sleeps comfortably and soundly! I think it's safe to say he's a big fan.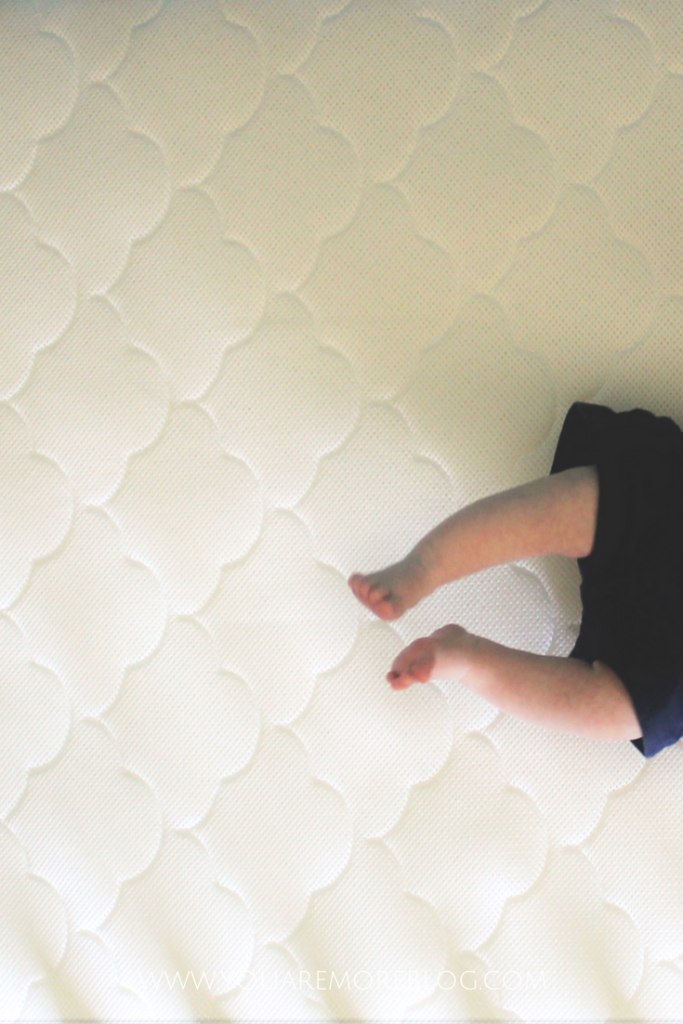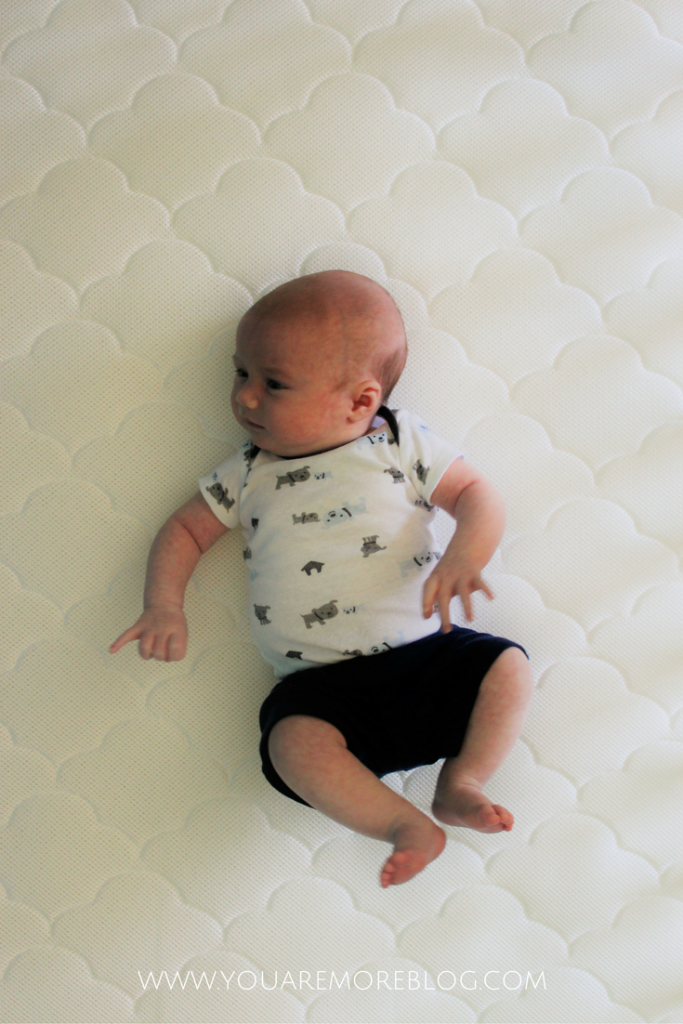 When we moved into the house, the boy's room was already painted with a gray striped wall and I didn't want to take it away. So we so this cute idea to paint one of the stripes a different color to tie in the colors in his room, and then we painted the rest of the room as well. The boys room is a navy, gray, and aqua-ish color and I just tied all the decor in with those colors. I went with some adventure type inspiration with the navy/blue colors.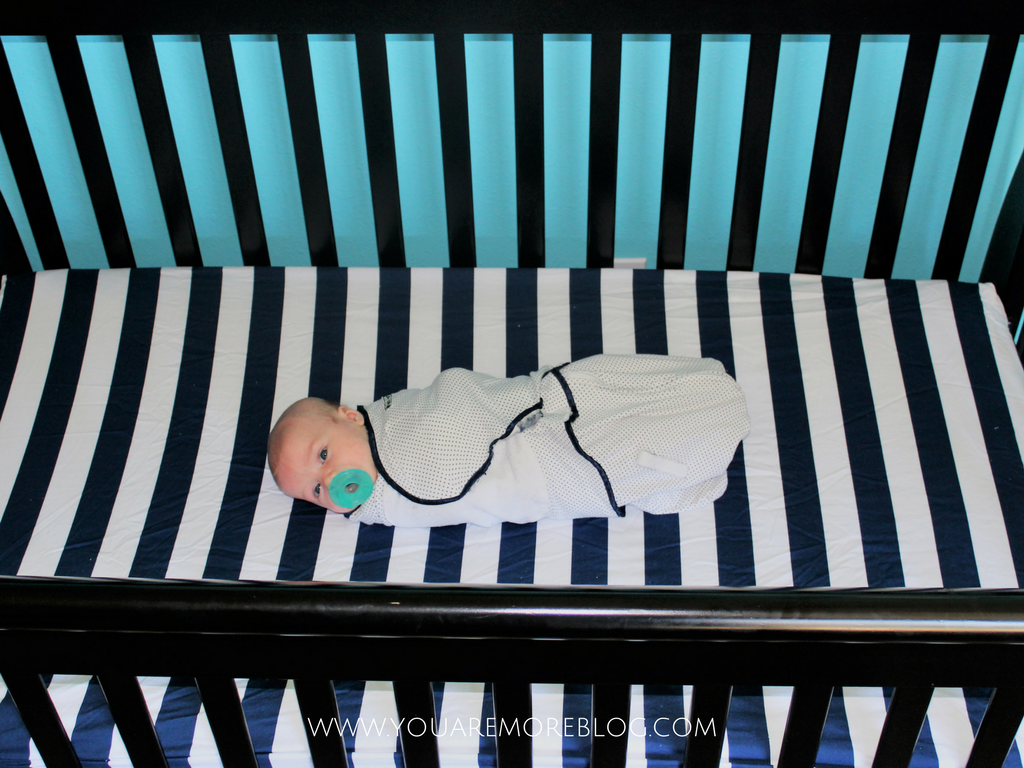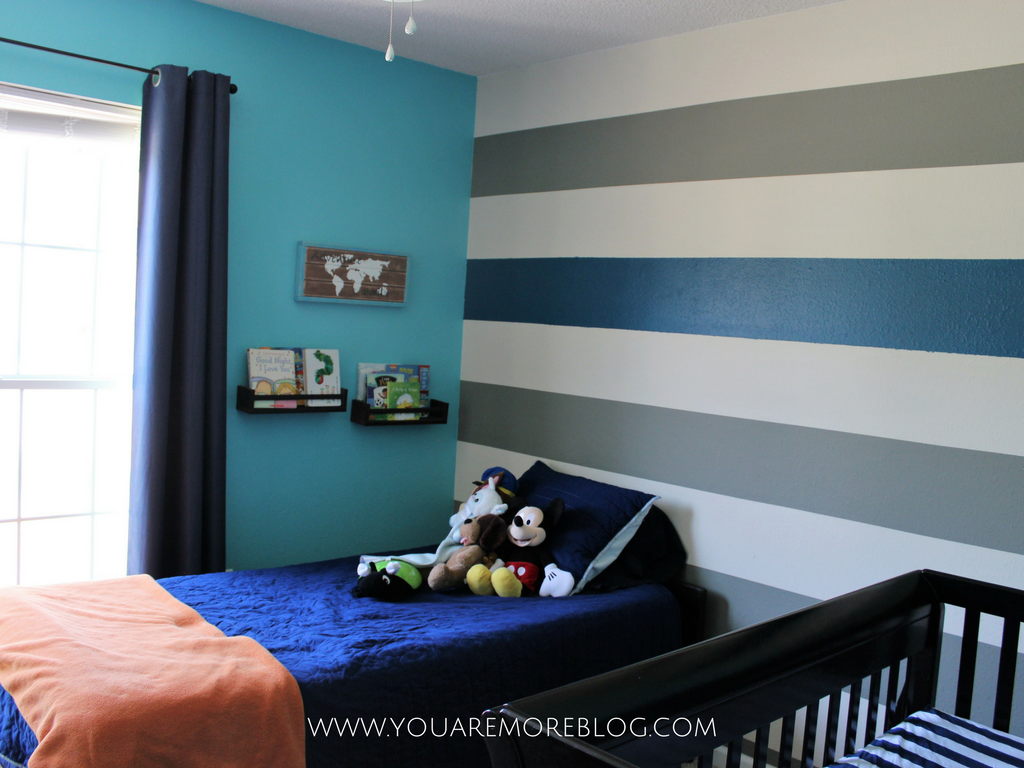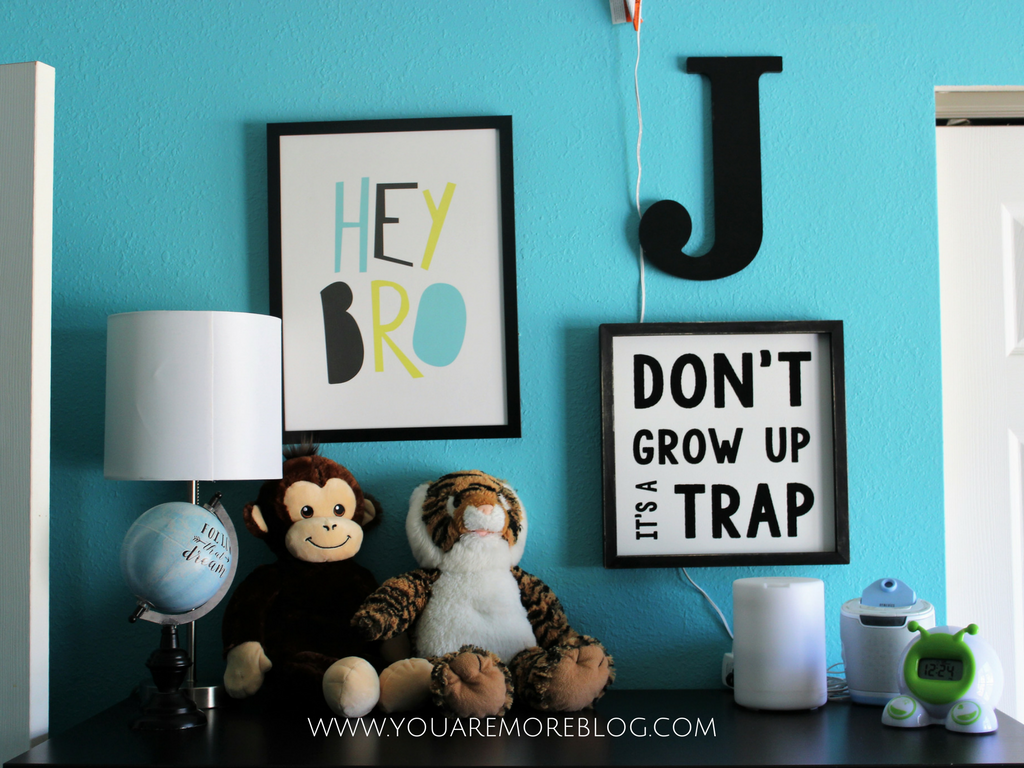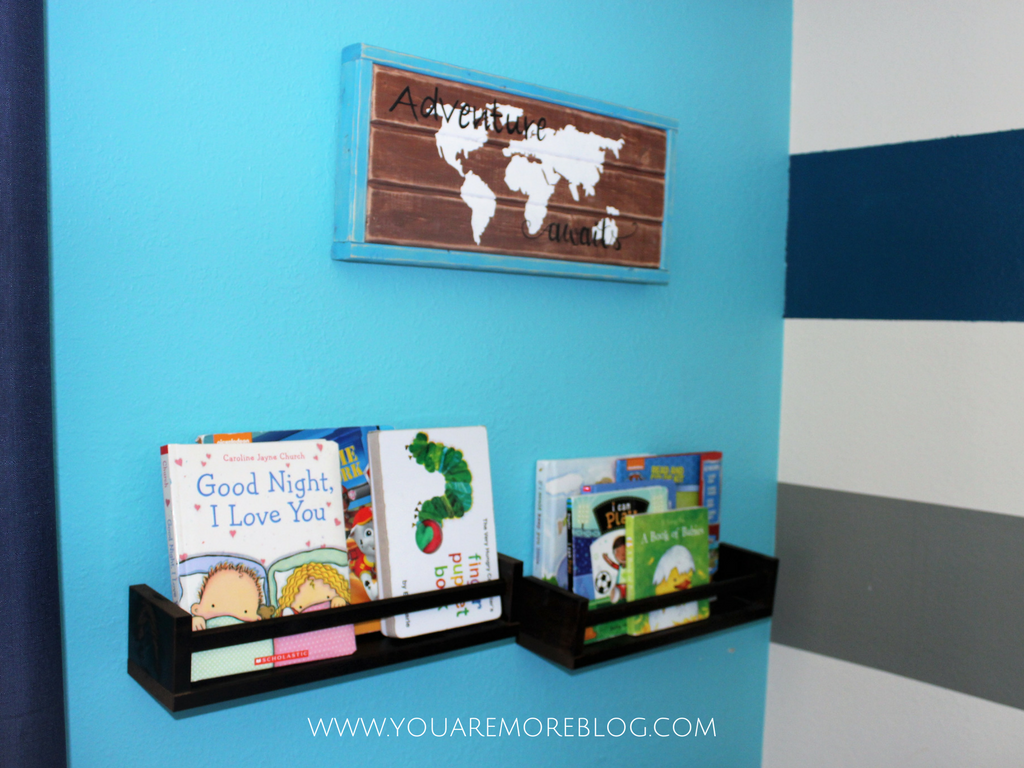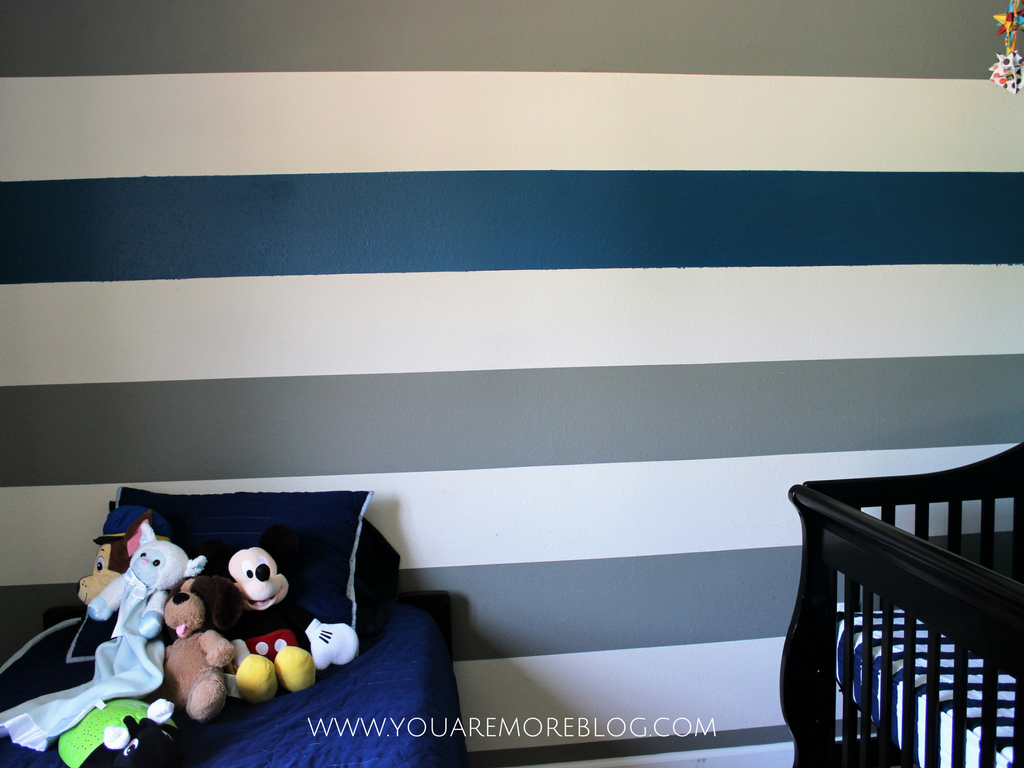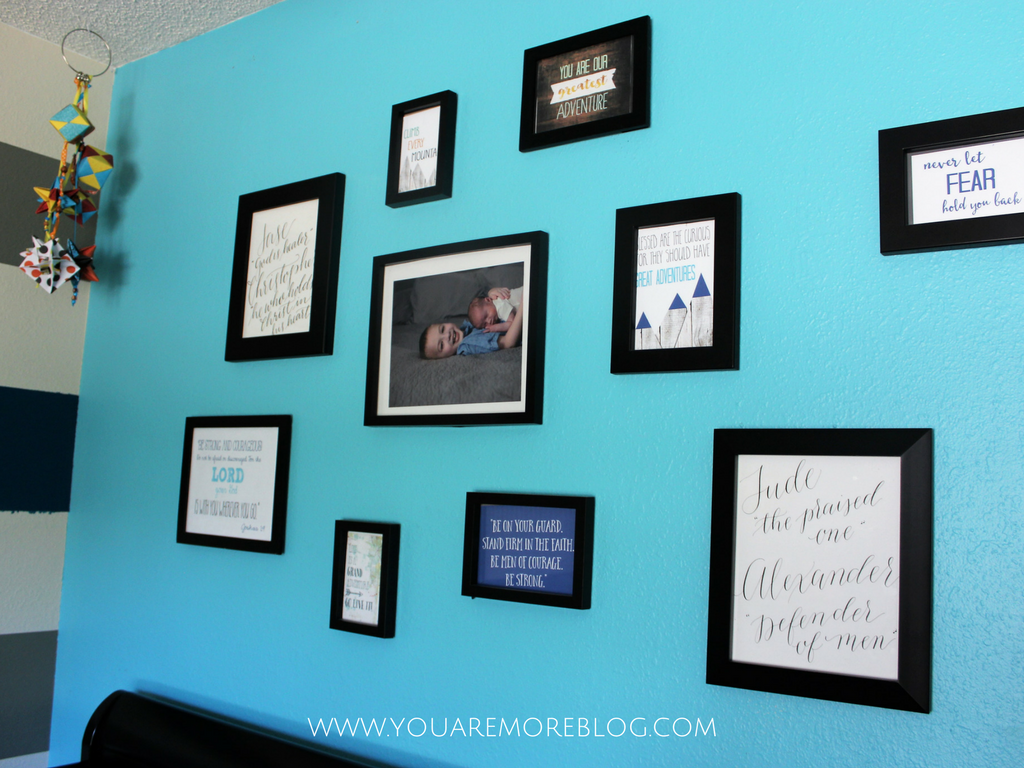 The collage is one of my favorite parts of the boy's rooms. I try really hard to fill places in our home with encouraging words that will speak life into those who enter, and having life giving words in my children's room is really important. Most of the prints are from Zoom Boone Creations. Erin has put together prints for both of my kid's rooms and I absolutely love her. I also ordered the name prints from Rachel at RJ Calligraphy Co. and they are some of my favorite pieces. We put a lot of prayer into what we name our children as we believe it speaks great power into their life, so I love having the meanings of their names in their room for them to see.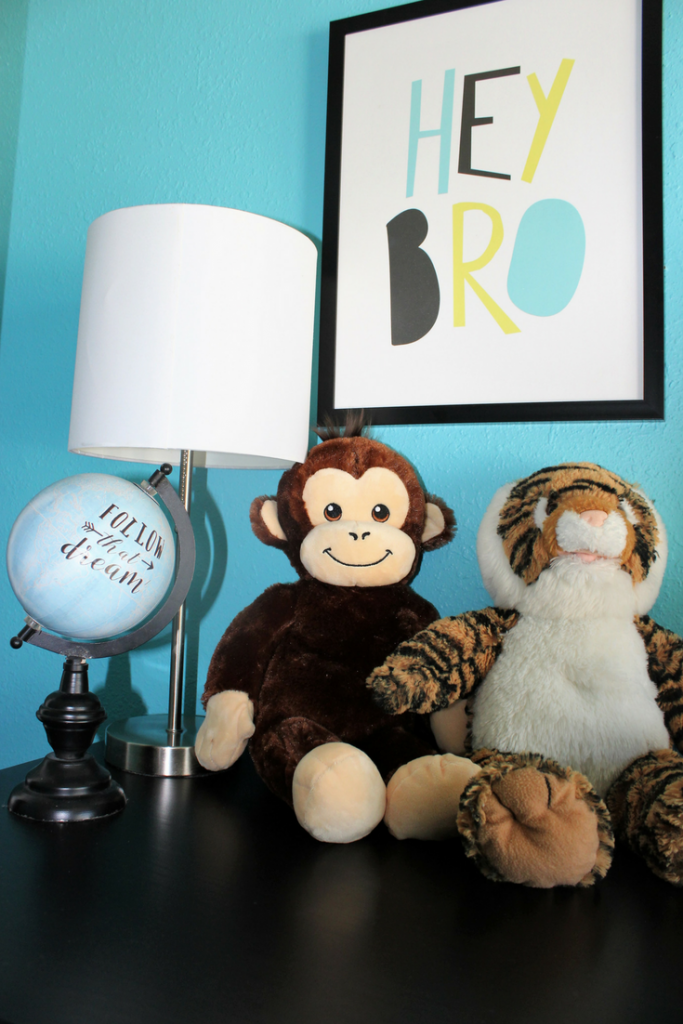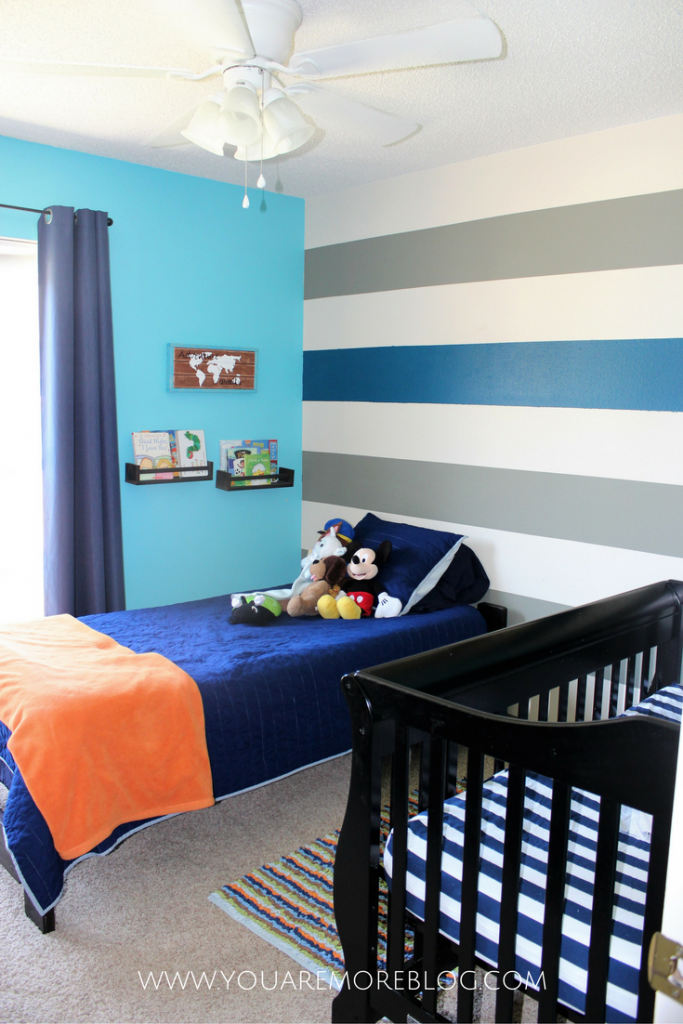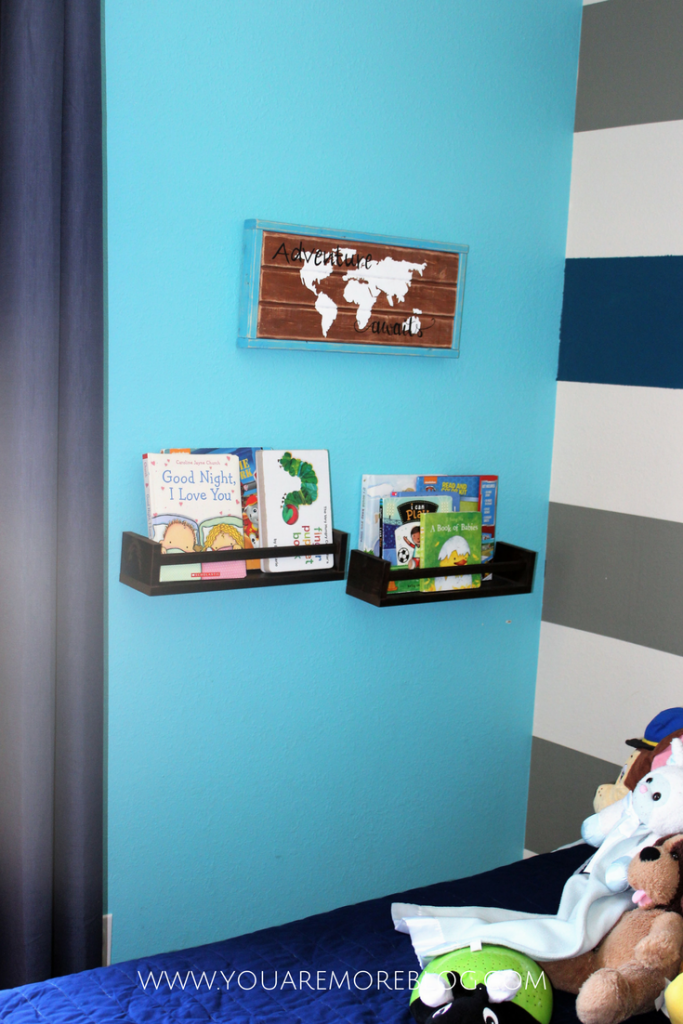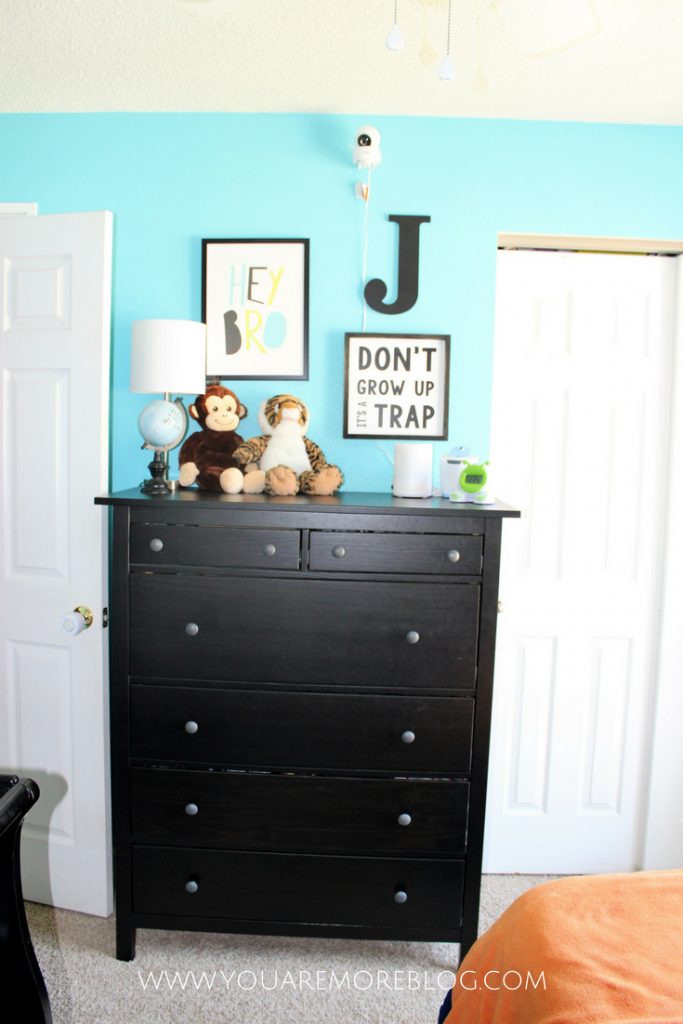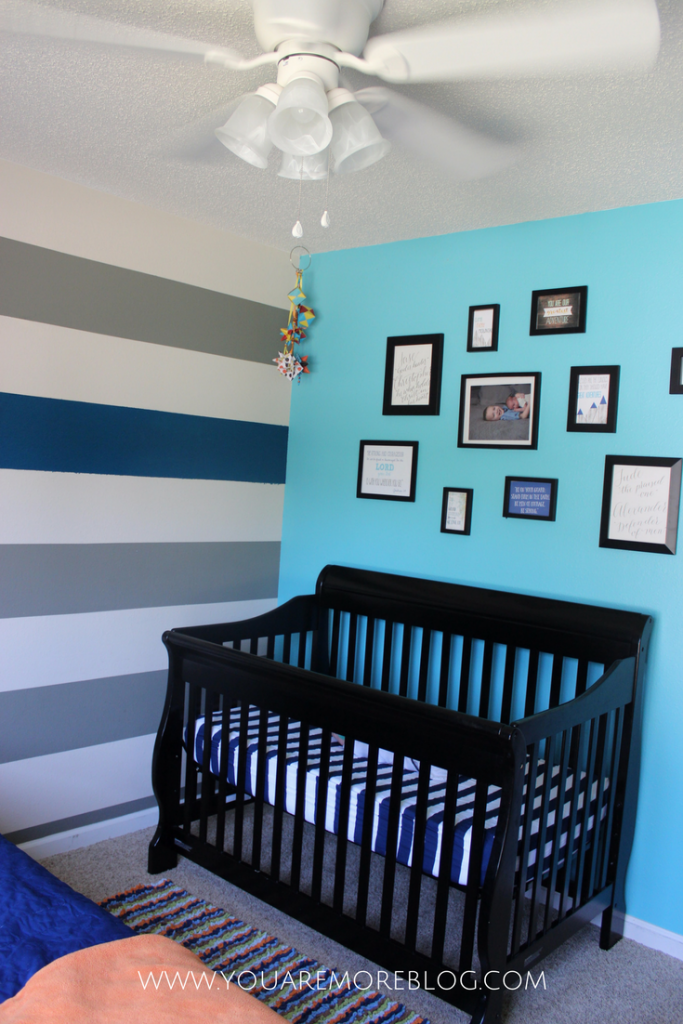 Putting together the rooms for our kids is probably one of my favorite things to do. I am going to miss when they won't let me pick it out anymore. But for now, I will just pretend they will stay little forever and never grow up.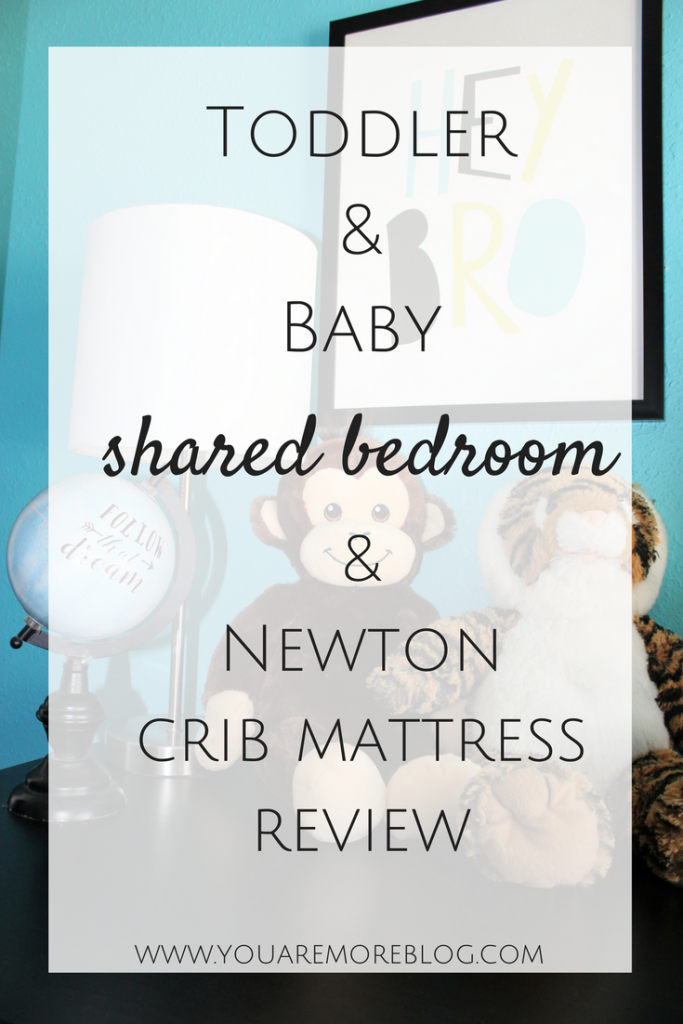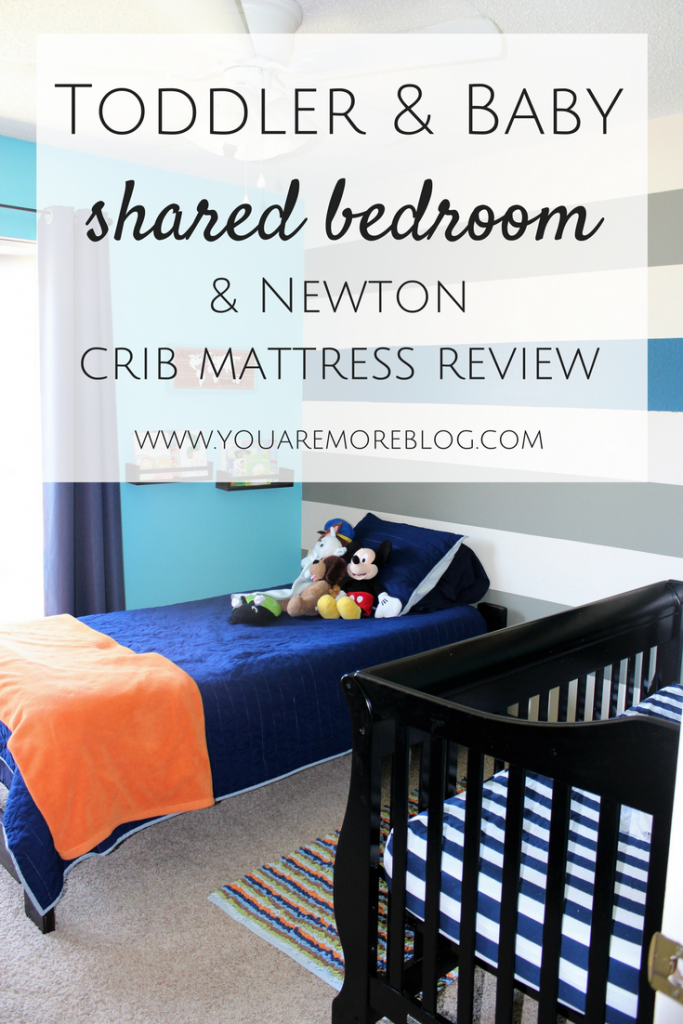 (Visited 126 times, 1 visits today)