Disclaimer: This post contains affiliate links that give me a small commission if you purchase through them. Purchasing through those links helps me to support my family and this blog. All opinions are honest and my own.
Here you are, you've finally reached the point in time where you need to pack the hospital bags! That is a huge accomplishment friend, it means you are almost there! Packing the bag for baby is probably one of the most exciting bags to pack and the moment you pack it things seem that much more real.
The hospital does provide almost everything you need for the baby, but if you want to have some of you own special things for the baby, that's what you put in your bag! I am not a big fan of the weird shirts they put on newborns, so I like to pack my own sleepers for them. I also like to pack a few special blankets so I always pack a bag for baby.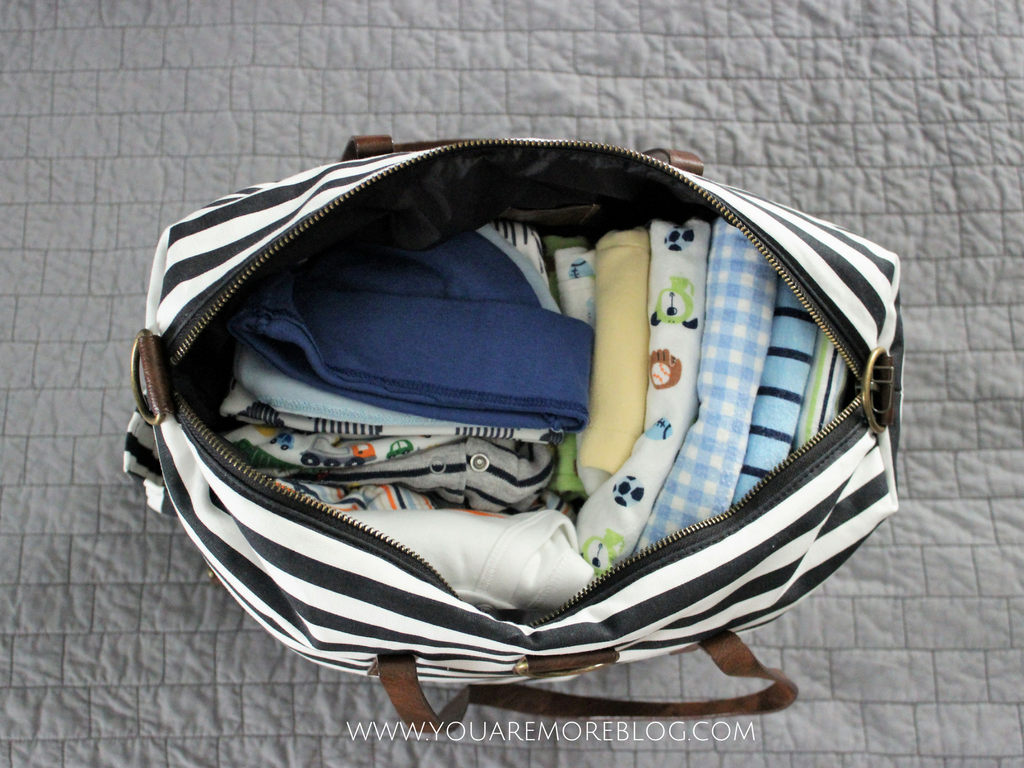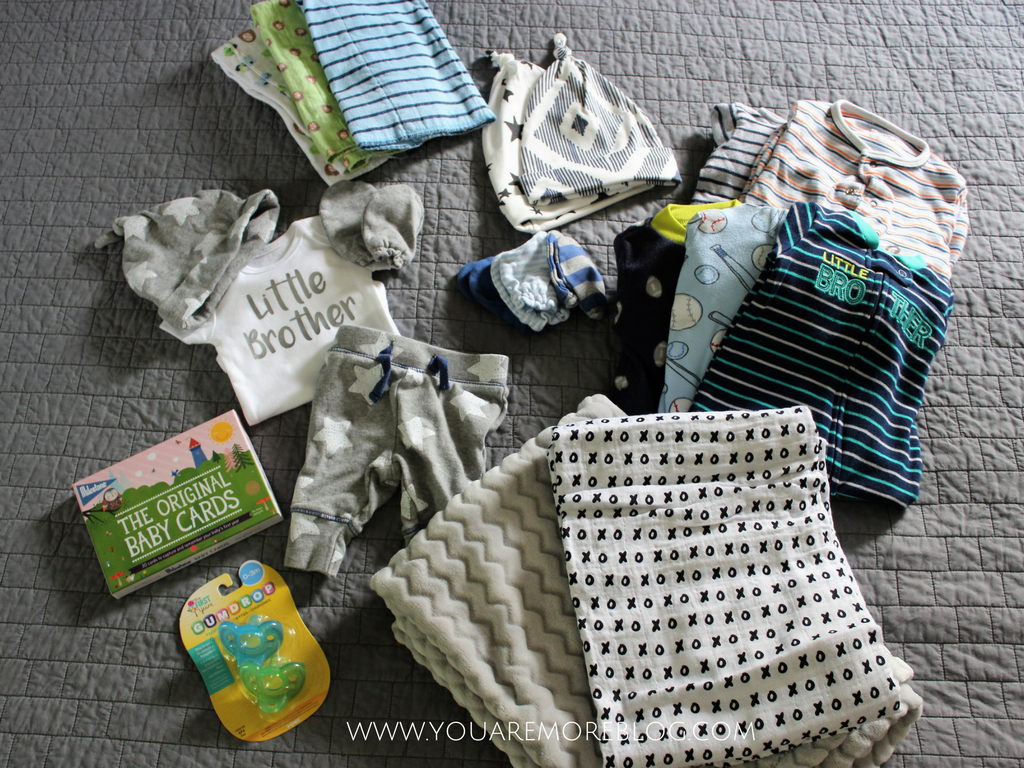 If you're looking for ideas of what to put in your hospital bag, here is what I packed for all of ours:
Sleepers – Like I said, I like to have my own sleepers for the baby. I usually use sleepers the entire hospital stay because it's easy. Those gowns that slip over their head and are easy to pull up are perfect for the hospital too as it makes all those checks and diaper changes easy, but I do the footed pajamas as well.
Burp Cloths – I definitely make sure to pack plenty of burp cloths because I go through these pretty fast! They can get smelly after awhile so you definitely want more than room.
Going Home Outfit: We always pick something special for our kids to wear when they get to leave the hospital. I got this adorable onesie from Sami White Designs (She is incredible, I will be sharing more about her soon!) and picked up the pants and matching hat at Target. He looked pretty cute in it if I do say so myself.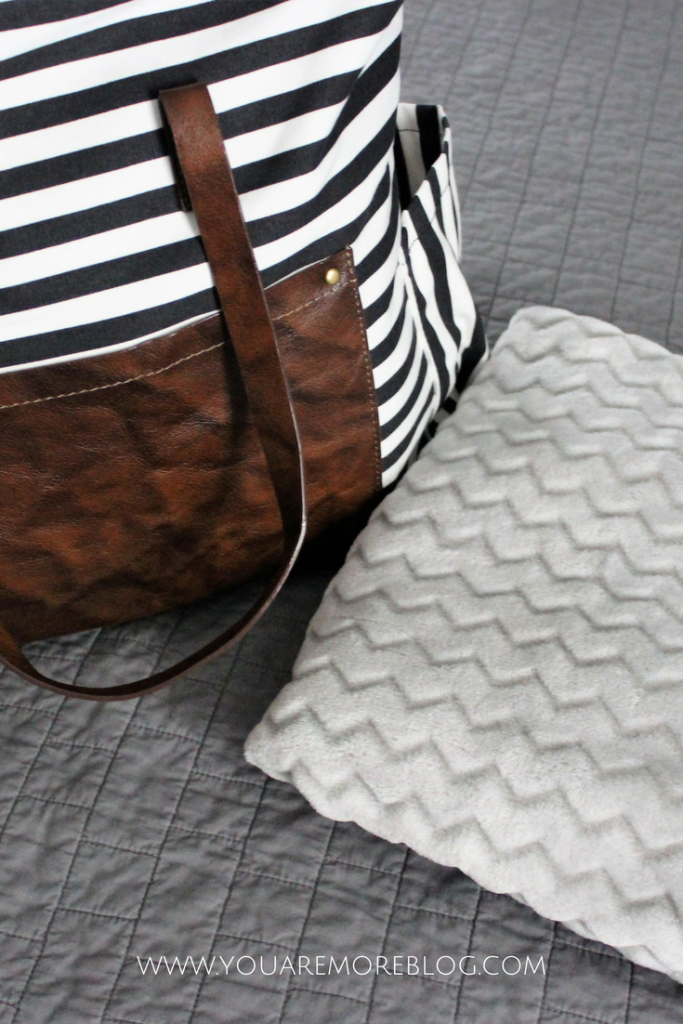 Blankets (similar) – I love to bring my own blanket for each of my kids. We usually pick a soft blanket that can be their special blanket before their born and pack that for them to snuggle with in the hospital. Then it's their special baby blanket. We always try to find the softest blanket we can find!
Swaddles – I love to bring a few of my own swaddles because it helps them sleep so much better right from day one!
Hats – Babies tend to get really cold after their born, so keeping their head warm with a hat can really help. I like bringing my own cute little hats because they're much nicer than the hospital ones. I got our adorable hats from Buccio Baby and absolutely love them! I'll be sharing more about Nicole and her shop soon, so stay tuned!
Hand Mittens – Babies come out with crazy sharp nails, so bring some little mittens for their hands to keep them from scratching themselves.
Pacifiers – The hospital will give you one if you ask, but I like to use a certain brand so I pack our own. But make sure that the baby is nursing well before you offer the pacifier. If they latch okay, then you should be good to go!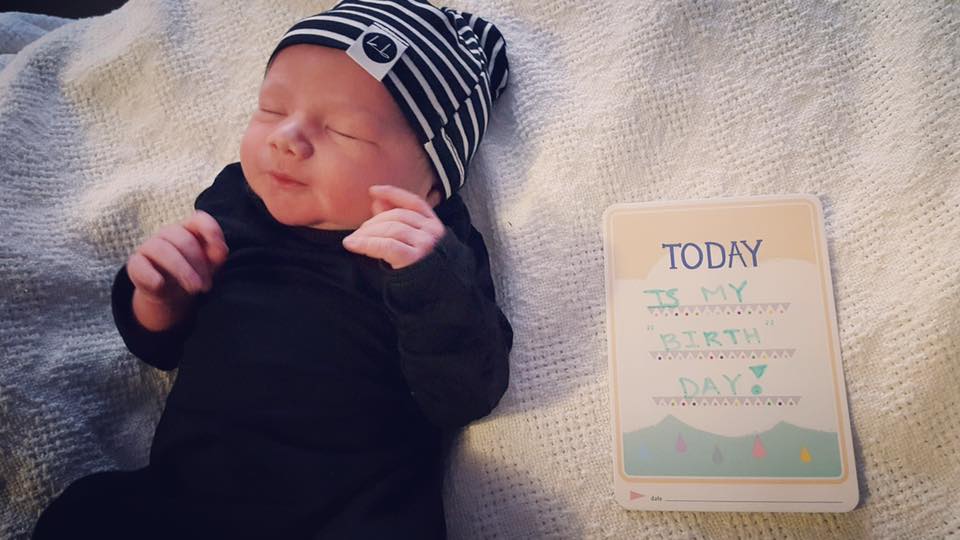 Milestone Baby Cards – It's never too early to capture the milestones for you baby! There is a card in there that has a blank space for you to fill in and we used ours to show that it was babies birth day! If only hospital lighting was a bit better, but he's still cute!
What did you pack in your baby hospital bag? Anything I missed that was a must have for you?
(Visited 275 times, 1 visits today)