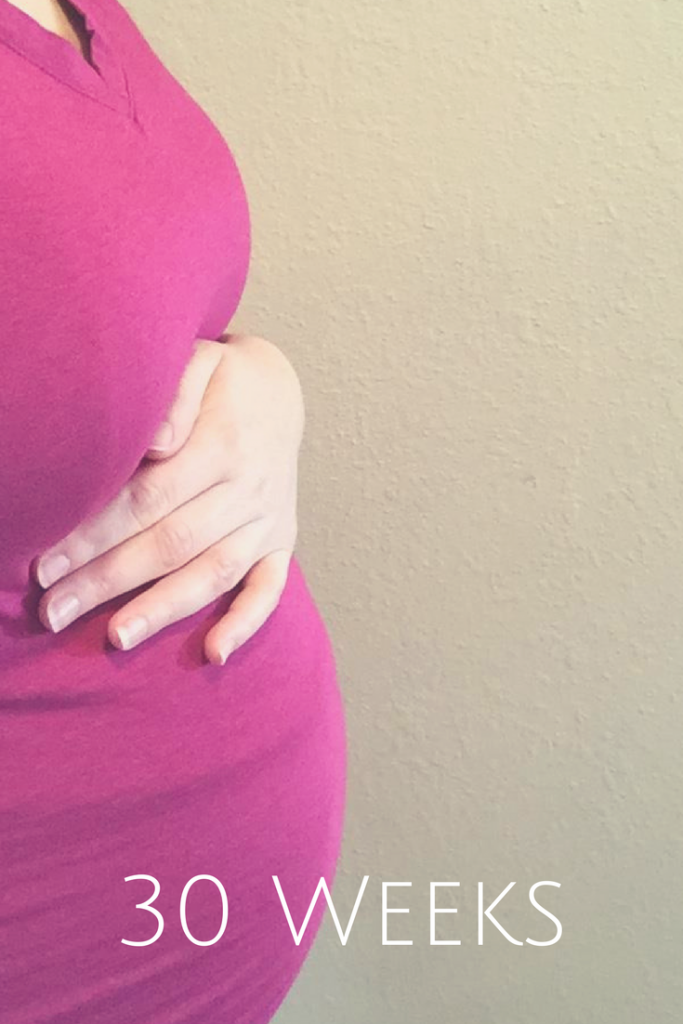 I cannot express my happiness to realize that we have hit the big 30 weeks. It's just something about hitting 30 that makes you feel like you are almost to the finish line. I am officially in the single digits counting down…9 weeks to go! I like the way that sounds!
This has been the first pregnancy that I've really just been more than ready to be done being pregnant. I have been incredibly sore which has made it really hard to manage as the pregnancy comes to an end. I apparently have something called SPD which basically means my pelvic bone is separating too soon causing a lot of pain. Not dangerous, just painful and keeps me on the couch a lot. I am hoping to get a referral for physical therapy from my Doctor here soon and praying that can help me get through to the end! It's definitely taken a lot of reminding myself to be present and enjoy today and not wish I could move time faster. I want to be able to enjoy Jase and Elyse as much as I can during this season and don't want to miss out on them.
It feels so different the third baby. We have no room to prepare, no big items to buy, it's just really waiting. We have all that we need. I guess that takes a lot of pressure off in some ways? But I can't help but feel so weird, like I have to be missing something! We've got quite the busy month coming up, and one May approaches things slow down a lot. Hopefully we can keep it that way to soak up the last month as a family of four.
I can't believe I am saying that. It's getting closer!
30 Weeks
Baby: BOY!! Jude Alexander
Mommy: Extremely sore. This pelvic condition has definitely thrown me for a loop this pregnancy. It has made me more ready than ever to meet this little guy. But aside from just pregnancy, I am learning to rest. I am learning that sometimes I need to embrace rest. Soaking up little moments with my two before they become three. Embracing this season as much as I can. Oh there is so much I can learn right here so I am trying my best to be present.
Big Brother: He's counting down. He really cannot wait to meet this little guy! He thinks he will be in his room right away so that may take some heart breaking moments, but hopefully he won't be too upset. I was just telling Chad that if anyone could share a room his entire life it would be this kid. He hates being alone!
Big Sister: We realized she has been calling him "Baby June!" She can't quite get that "d" sound in there which makes me laugh. Hey, I guess she's kind of right since he'll be here in June! She comes over to my belly frequently just to rub it and say, "Hi baby June!" She also loves to peek in his crib and say "Awww, Baby June!" and look at all his gifts and say the same thing. She loves babies and is such a nurturer, so I think she is going to love him. I also know that she loves to snuggle, she is good at sharing mommy, but if someone is with me she has to join the party. I anticipate a very full lap with this baby boy's arrival.
Cravings: Nothing really. Sleep? Can that be a craving?
Food Aversions: I think I am pretty much done with Mexican until this baby is born. It causes the WORST indigestion and I end up regretting it every time. It's mostly just the heavily seasoned things, so I like to make myself taco salad without the taco seasoning to get my fix.
Looking forward to: Being in the single digits counting down the weeks! I have never been more ready to have this baby as I am now. Also, we have gotten so incredibly busy that I haven't had time to pull out all the baby clothes and wash them, so I am really hoping to do that soon. If I wait much longer I might be too sore to handle it!
(Visited 90 times, 1 visits today)