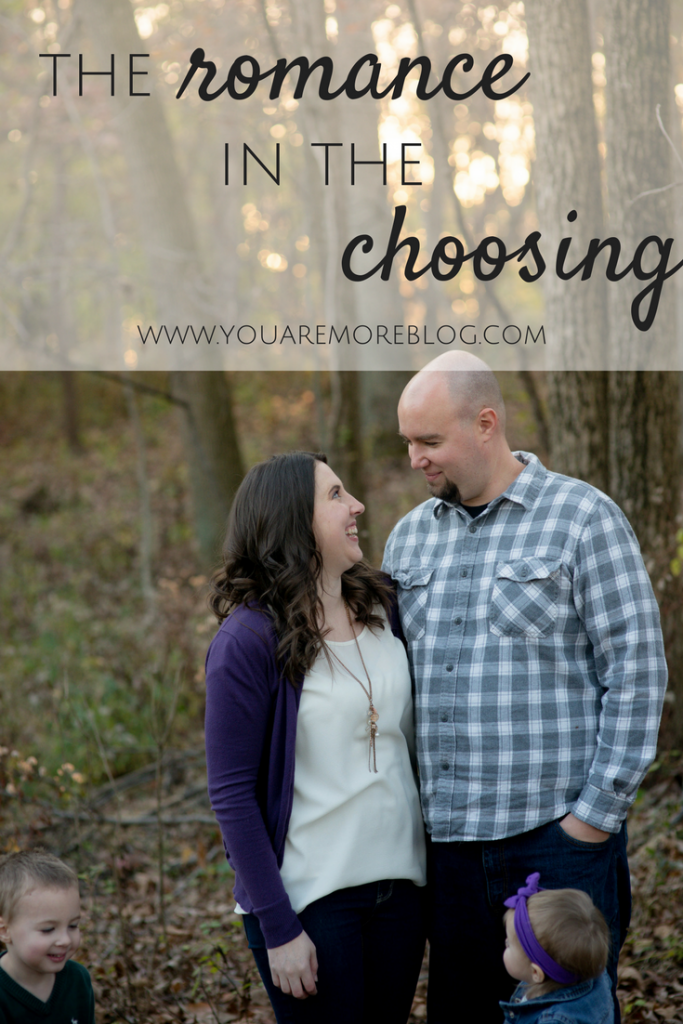 It's Valentine's Day – the day that is supposed to be the most romantic day of the year. Today you will see your social media feeds full with the bouquets, favorite candies, favorite stuffed animals, and all the romantic gifts and dates one can handle in a day. It's a sweet Holiday full of romance, which I am all for. Personally, I remind my husband every year that it's the time for chocolate covered strawberries and if that is all that I get, I am one happy wife. I have a weakness for those sweet little treats.
But, I also think it's so easy to get so caught up in the perceived romance of this special day that we miss the romance in every day. My husband doesn't buy me flowers every day, he doesn't give me my favorite candy every day, and he isn't planning the most extravagant dates every day. Sometimes I find myself wishing he would, just being honest. Sometimes I miss the days of spontaneous dates, just because treats, and the endless snuggles on the couch. Life got a little crazy two kids later, jobs, buying a house, and everything in between. When all that happens, I think people look and see romance lost.
But that's not what I see. I see romance found.
The romance in the choosing of loving each other every day is the most romantic thing one can ever experience.
It's the just because kisses when I don't remember the last time I showered, my hair is in a messy bun, and I probably forgot to brush my teeth this morning.
It's the lingering hugs while dinner is cooking as the chaos of children run around our feet.
It's the completing of the honey do list just because the hanging of pictures brings joy to my face more than any one person.
It's the picking up of dirty songs for the hundredth time just because you're thankful to have someone to pick up after.
It's the holding through tears when one's heart is aching.
It's the reminding of provision when things seems bleak.
It's the way you exchange looks that say more than words when the children are doing something sweet.
It's the building of a life, a family, a home every day and choosing to wake up and do it all over again with the same person that is the most romantic thing of all.
In a day that marriage is seemingly too hard, commitments are forgotten, or priorities are lost, it's the romance that is found in the choice to love every day. When it's easy to get in time together, and even when it's hard. When one is going through a battle, and the other doesn't know how to help. When one is grumpy and hard to be around. When one hasn't showered. When one gives just because flowers or just because kisses.
The romance in choosing to love every day will always be greater than the romance of today.
Happy Valentine's Day Babe, I Choose You Forever.
(Visited 53 times, 1 visits today)