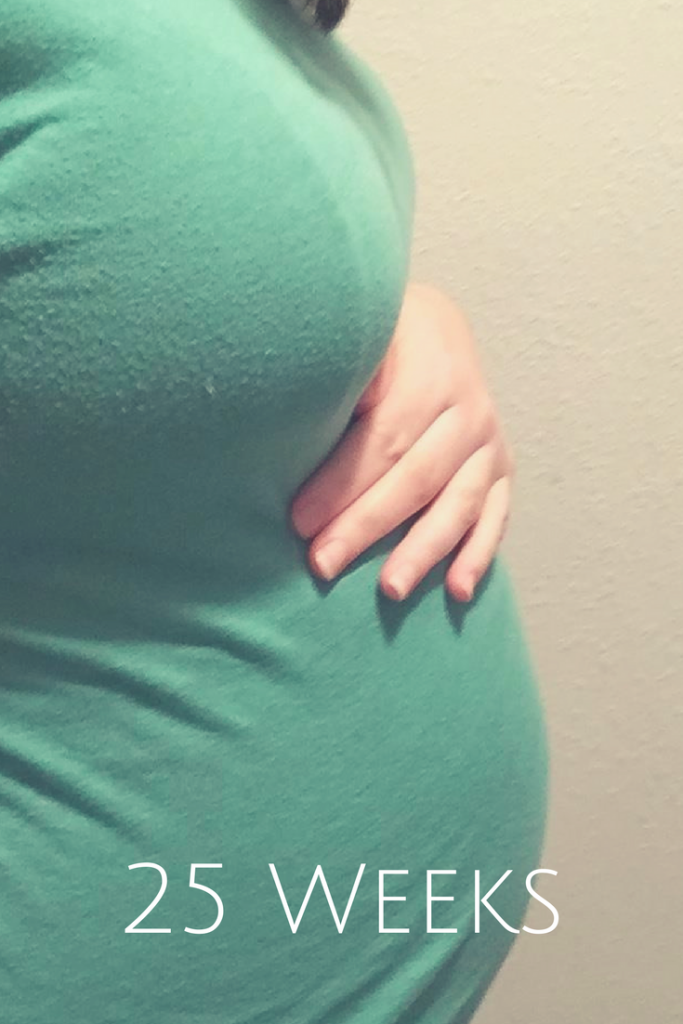 I still feel like we have so much time to go and it doesn't necessarily feel like it's going fast, but 14 weeks left sounds a lot better to me. We officially have the C-Section scheduled for June 6th at 9:15AM and I've been a little nervous. Everything was so perfect last time, but I have had nightmares about things going wrong this round. I have no idea why. I've just been really praying and trusting that God is in this and it will go smoothly.
I am nesting like crazy so I have kept busy with so many tasks around the house. We are hoping to get a bigger dresser for the boys' room soon so that I can get all Jude's laundry out and start putting it away. It's going to be so special seeing him in some of Jase's old clothes! When I am not doing baby type things, I am cleaning my house a hundred times a day. It's sad. I just can't sit still even though I really should.
25 Weeks
Baby: BOY!! Jude Alexander
Mommy: S.O.R.E! If I could shout that I would. Pregnancy wears on my pelvic area tremendously to where rolling over in bed, walking, and standing for long periods of time send me into immense pain. I am talking to my doctor about it next week because I think I actually might have a condition that happens in pregnancy with your pelvic bone, not serious, just majorly painful. So I'm hoping for some tips to combat it. But besides that I'm doing good. I have been nesting so much this pregnancy I wouldn't be surprised if I finish everything by the end of March. Don't judge.
Big Brother:So excited! We put the crib in his room to see how everything would fit and he was so excited about it. I was worried that he would feel like his space is invaded, but he keeps saying thank you for baby Jude's bed. It's pretty adorable. Jude won't be in there at night for a while, but I like to have them take naps in their crib to get used to it which is why we went ahead and put it up.
Big Sister: She loves babies and is so nurturing, I really hope that says something for when Jude comes! We talk about him all the time, but I know it won't click with her yet.
Cravings: Jelly Beans. Chocolate. Meat. Man child.
Food Aversions: Anything that causes acid. It's so bad!
Looking forward to: Meeting this little guy! I just can't wait! My next appointment is the glucose test and I am so ready to get that over with. Anyone else ever freak out about passing it? *gulp* Wish me luck!
(Visited 67 times, 1 visits today)