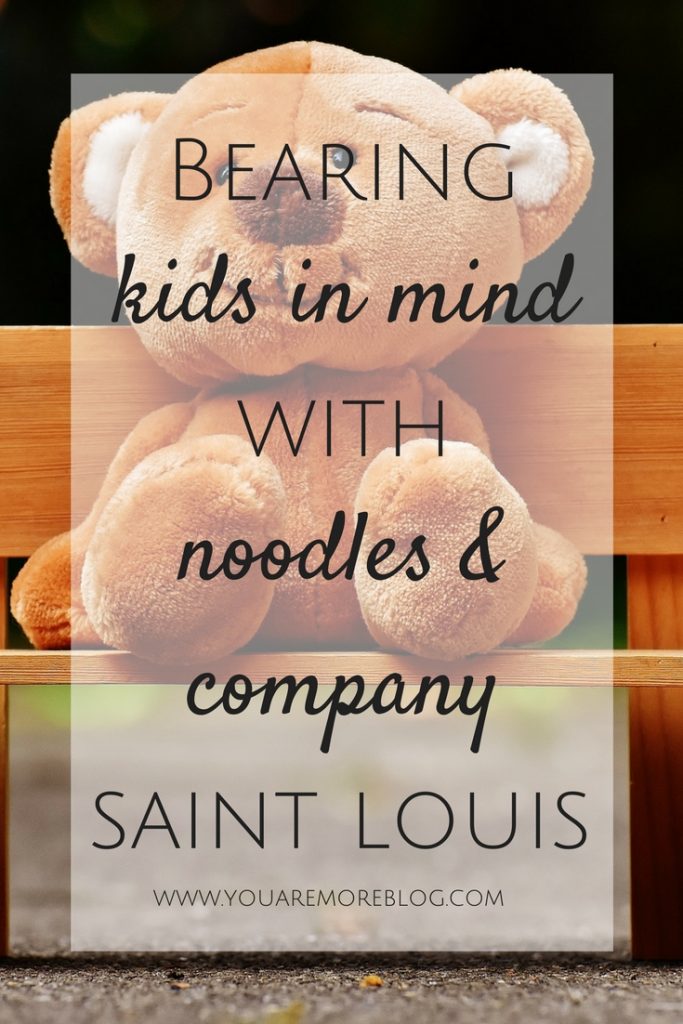 This post was sponsored and written in collaboration with Noodles & Company. All opinions are my own. #BearingKidsinMind #NoodlesMO.
Valentine's Day is next week! Can you believe how fast that came? We are already half way through February! I know that every year when Valentine's Day comes around you're thinking about the date you're going to go on with your special someone. Pretty much since High School Valentine's Day has been about all that mushy gushy love stuff. But let's go back for a moment and think about our childhood Valentine's Day. Did your parents ever give you special little stuffed animals or your favorite candy to show you how much they loved and adored you? I vaguely remember waking up to my own special treasures a few Valentine's Days. Since becoming a parent I have been just as eager to do the same with my kids every year because we all know how much I love them. It's just as important for kids to know they are loved and valued too!
I am really excited to share with you the way Noodles & Company is sharing the love with some special kids at the area's Children's Miracle Network hospitals. Noodles & Company just kicked off their Bearing Kids in MindTM  fundraising effort February 9, 2017 and it continues until July 3, 2017. There will be donations accepted at boxes near any of the Saint Louis Noodles & Company locations and during the month of February those donations will go to purchasing plush bears for the patients at St. Louis Children's Hospital, and SSM Health Cardinal Glennon Children's Hospital in St. Louis, and the MU Children's Hospital in Columbia, Missouri. I couldn't think of a better initiative to show these young children that they are loved and valued!
The best part, you can be a part of it! Your donation can make it possible for these kids to be loved on this Valentine's Day. Not only do they all receive a fun toy bear with a Noodles & Company t-shirt, but there will also be coupons given out for free kid's meals! You also have the opportunity to write "Messages of Hope" to be delivered to the patients to be delivered with their plush toys.
It's so encouraging seeing local businesses reach out and love on the people in their community. What an opportunity to use something as simple as Valentine's Day to show love to children who could really use the extra special reminder that someone cares about them!
If you are in the Saint Louis and Columbia areas, you don't want to miss out on this opportunity to be a part of loving these kiddos! Be sure to visit your local Noodles & Company for a tasty meal and to donate for the Bearing Kids in MindTM initiative.
(Visited 49 times, 1 visits today)