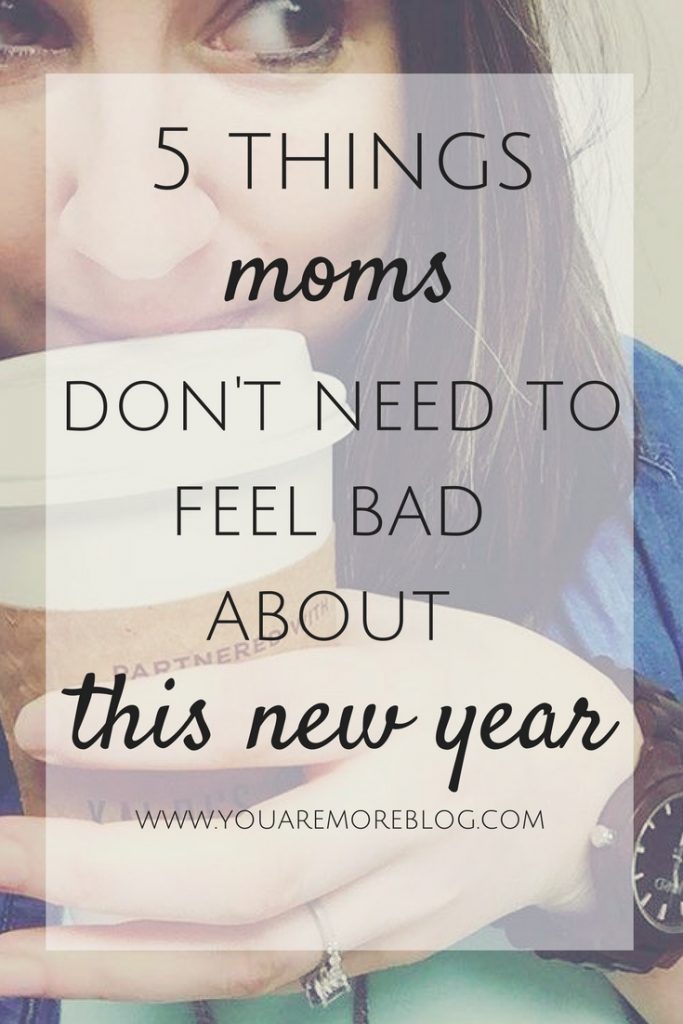 Do you ever find yourself feeling bad about doing something for you? I mean, I know that sounds kind of foreign. You spend all day taking care of other people and you happen to find yourself at the bottom of the list. But this year, it's time that's different. This new year, it's time that you do some things for you without feeling bad.
To help you out, I am giving you five things the you don't need to feel bad about this new year.
1. Throw out the pre-baby clothes. Look, I know you're on your third kid and you still have that one pair of jeans you are hoping to fit back into in your closet. Oh, you don't? That's just me? Okay. Well that one pair of jeans that is motivating you to lose all your baby weight, throw it out. That shirt that you absolutely loved before you nursed a baby and have hips that it sits all weird on now, get rid of it. Just do it. And do it without feeling bad. This isn't mourning the body you will never have again, it's accepting that post baby your body is a little different! Things fit differently and that is okay, so get clothes that you feel comfortable in. You don't have to always be the mom in leg gins and yoga pants, you do deserve to feel good sometimes. Invest in clothes that make you feel that way! You deserve it mama!
2. Set a weekly, bi-weekly, or monthly me-date! You need time for yourself. Time that you aren't wife, time that you aren't mom, and time that you are just YOU! It doesn't matter what you do, but do something that makes you happy. Go to Target and stroll the aisles and refuse to look at anything related to children! Gasp! I know, it won't be easy, but grab that Starbuck's and spend hours looking at the home decor aisles because there is no one there to stop you! Daddy deserves time being just daddy too, so take advantage of that and don't feel bad about it!
3. Be okay with saying no! One thing us moms are really good at doing is taking too much on ourselves until we feel like we just joined a juggling act in the circus. I did not sign up for that, but really, I did because I didn't say no. It's okay to say no. If adding a play date to this week's schedule is going to be too much, that's okay. If the kid's didn't sleep well and going out to run errands is going to be stressful, it's okay to say no. Recognize what you are putting on your plate and be okay with evaluating what needs to go. You don't need to run until your ran into the ground, mama. You have got to take care of yourself.
4. Find something you love. Sometimes I get time to myself and I don't know what to do with that time. I start to forget things I loved to do and so when there is an ounce of time to do them, I can't remember what they were. What hobbies did I have outside of being a mom? Find something you love and make time to do it. You don't want to let yourself become lost in motherhood, but most importantly, it's a great lesson to teach your kids. Life can become quickly overpowering and busy can take control, show your kids that they will always matter. Doing something you love is important!
5. Resting. This one is pretty hard because there is ALWAYS something to be done. But if we don't take care of ourselves and slow down sometimes, we are going to burn out. It doesn't matter how you get rest in, but you need to do it. Set aside time that is off limits for doing anything for anyone except you. Whether you read a book for half an hour, watch a favorite show, or close your eyes. Just remember, whatever you do, rest!
(Visited 86 times, 1 visits today)