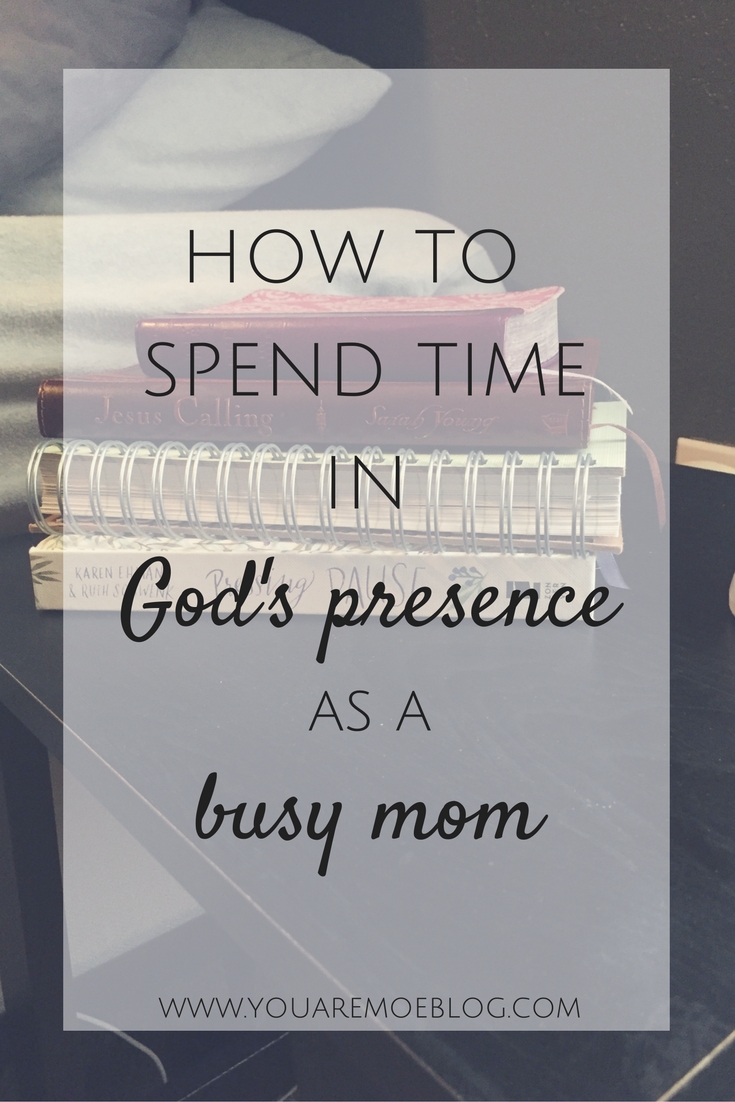 Have you ever seen those witty little memes that talk about how busy your high school and college self thought you were, and how you wish you could just give your college self a peek into your life today? I have to laugh every time I see those because it couldn't be more true. I have to schedule time for myself in my week or it won't happen. If you would have told me five years ago that I would forget to take care of myself I probably would have laughed in your face, but oh is it true.
So when it comes to my spiritual life, it's even that much harder. Not only are my kids prying for my attention all day long, but the enemy is working against me getting in that time with the Lord as well. If he can keep me away from that precious time in the Lord's presence, he knows I'll worry more, I'll stress more, and I won't be the best mom that I can be.
There is nothing that can make me a better mom like spending time in the presence of the Lord can.
But I would also be lying if I told you that it was easy. Every second of my day is full of taking care of the kids, working, taking care of the house, and the list goes on. It is hard to see where I could add just one more thing into my day, but when I realize how important it is, there is a way.
So, what are some ways to spend time in God's presence when you're a busy mom?
1. Find a short devotion. The length of your devotion doesn't determine how much you love the Lord. Find something short. I love the Jesus Calling book as well as the First 5 App. I have both of these and all it takes is for me to get up and read through it in five minutes. I set my phone or the book on my night stand, grab it before even getting out of bed, and read through it. Then it sets my thoughts on the devotion and I can start my day thinking about the word. I can do this even if the kids are already awake, like I said, it's short.
2.  Do your devotions in front of your kids. One of the biggest things I used to get caught up in is the way my devotions needed to look. I thought that I need to be in a quiet place, without any interruptions, and sitting there as long as I possibly could praying. Truth is, my life just doesn't make that possible these days. So, sometimes I pull my Bible and journal out while the kids are playing around me. They love when I turn on worship music and will play and dance as the music plays, and I can get some time with the Lord in. I may have to stop here and there, but I am still getting that time.
3. Fill your home with scripture. Sometimes there is something you need to speak to your heart, write that verse down. Put in on your fridge, a bathroom mirror, on your kitchen cabinet. Somewhere that you can see it and look at it and speak to your heart. Getting in God's presences isn't about a ten minute devotion time, it's about living in it.
4. Fill your home with worship. This is my favorite way to spend time in God's presence. I constantly have worship music playing in my house to set the atmosphere. Sometimes, a song is just what I need to speak into my heart at that given moment. It's a great way to bring God's presence into my home no matter what I am doing.
5. Get into the word with your kids. Every night we do family Bible reading. Sometimes it looks a bit hectic, but there have been plenty of times where something that has been read during this time has been simple enough to touch my heart in just the right way. You are never too old for the simplicity in a children's Bible story.
It's definitely not easy, and some seasons will prove more challenging than others, but getting to that place is so important. Just start taking steps that get you in God's presence more and you'll see how it changes the way you mother, and then you'll begin to find yourself craving that time so much more. The more you crave it, the more you'll find yourself in that place.
(Visited 260 times, 1 visits today)