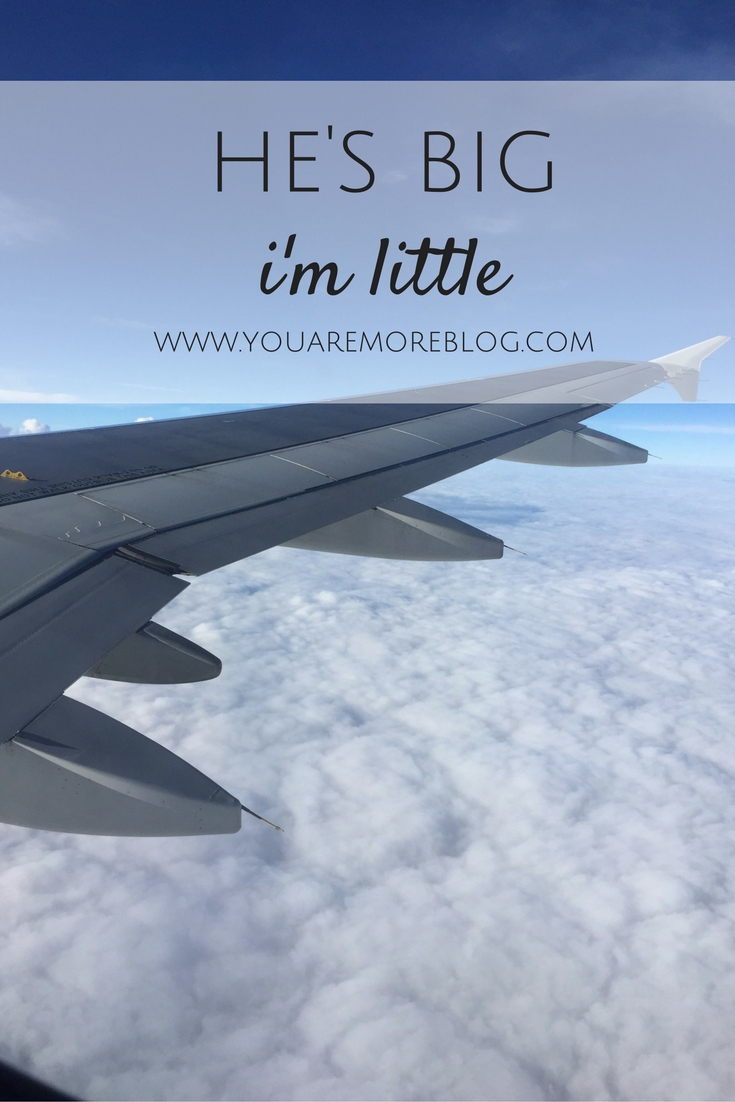 Have you ever flown before? If you haven't, let me just tell you it's incredible. Set all the traveling anxiety aside, when you get up in the sky and look down you realize just how big this world is and just how little you are.
I'm sitting on a flight right now as I am writing this. I am on my way to my little sister's last minute wedding before her fiancé-soon-to-be-husband gets stationed in Italy. It's been a whirlwind the last week which is why you haven't seen much of me around here these days. But that's life, right?
So here I am up in the sky looking down at all the clouds below. Sometimes there is a break in the clouds and I can make out some things below. Trees, dirt, water. To me it almost looks like one giant quilt of browns, greens, and blues. Everything is just so little down there. I am so little.
You know what's even crazier, all of this, it took one word. All it took was for God to say a few simple words and boom, there it was. Light. Boom. There's light. Water. Boom. There's water. Land, trees, animals, plants, He named it and it was there. Just like that.
Wow.
God must be pretty big.
It's situations like this that challenge the way I view God. It's so easy to get caught up in my day to day responsibilities, my day to day life, everything that my little mind can grasp here and forget just how big God really is. Don't get me wrong, I see Him moving in my daily life and it reminds me He's big. But when I see the world from the perspective of the sky, I am reminded how there is no possible way I can wrap my mind around just how big he is.
Little old me. Big old Him.
And here I get so caught up in my worries, in my tomorrows, in my what-is-life-going-to-look-like-a-year-from-now moments forgetting to remember just how big God is and just how in control He is.
He did all of this. One simple word. What more can He do in my life if I just trust Him?
My problems are big to me. Life can be pretty overwhelming for me. He gets that. He knows that. He understands that. But He also wants me to remember how much bigger He is.
So today, as I am up in the sky looking down at how little everything below me is, that's what I am going to remember. He's big. I'm little. He's got me. I trust Him. He won't let me down.
And he won't let you down either friends. He's got you. This world you live in, it's big. Much bigger than what you see in your day to day. Much bigger than I can even see 39,000 miles in the sky. He is big enough to create all of this, He is big enough to take care of you.
Don't you forget that.
(Visited 54 times, 1 visits today)