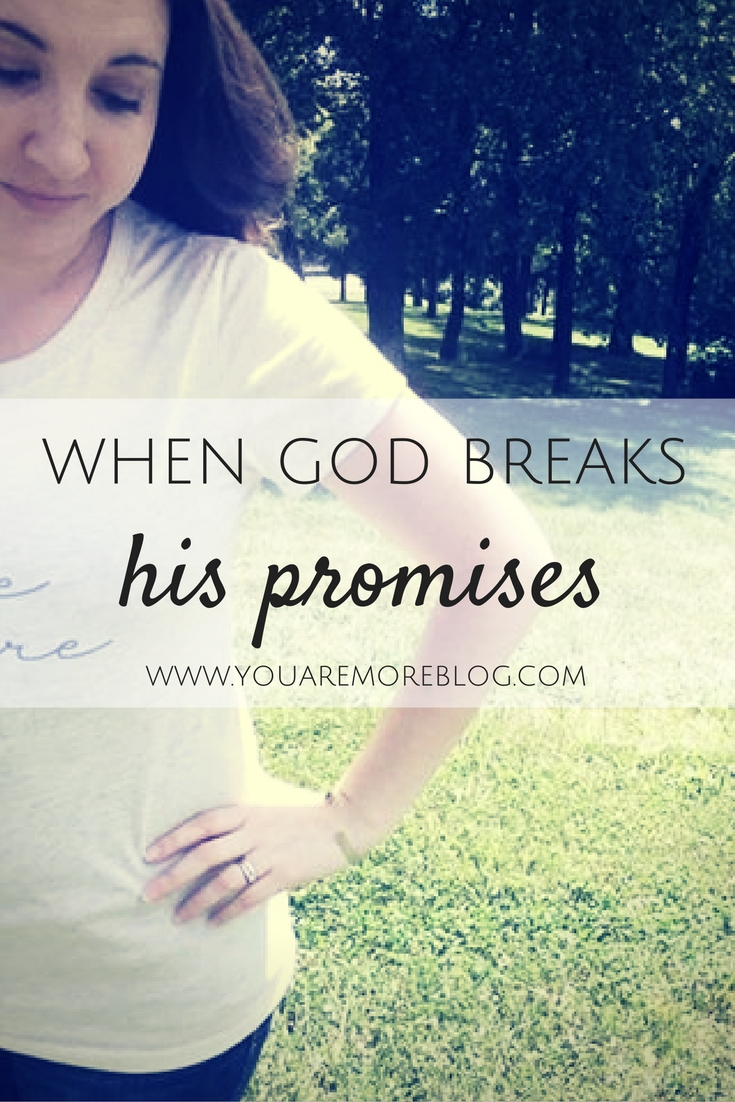 Have you ever felt like God let you down? Maybe you feel like He has broken a promise to you? You were believing for something, you were praying for something, you were praying against something, you were trusting that He would come through for you, but then you were let down. You felt like you were claiming His promises, the very ones He told you were yours, and then He broke them. He didn't follow through with what you were believing for and it hurt…it hurts.
I'm going to be honest with you and tell you that I have. It's been a year now that I have been believing that God wouldn't take me down this path. An entire year of wishing anxiety wasn't a part of my story. A year of believing that if I prayed hard enough, God would take this from me. If I believed for healing then He would heal me. Waiting for that moment that God just takes it all away and the weight of anxiety lifts forever.
We hear miraculous stories of God healing someone from cancer, God saving babies with life-threatening diagnoses, and crippling anxiety and we believe that He can do that for us. After all, His word promises us He can, His word encourages us to ask for those things, and He is good, so why wouldn't He do the same for us?
But then we pray the prayers and we believe with everything that is in us and it doesn't happen. We aren't healed. Our questions aren't answered. We lose babies. We lose loved ones. We struggle with depression and anxiety. We sit there in this story that we never wanted to be ours yet we can't escape it.
We think we just aren't praying hard enough. We just aren't believing enough. We aren't trusting enough. Maybe our prayers just aren't good enough. But sweet friend, that isn't the case. Pressing I without relent is faith enough. The belief through unanswered prayers that God is still good is faith enough. The faith that stands strong even when our lack of understanding hurts so much.
God works in ways that we can't understand, and we aren't meant to. Sometimes instead of delivering us from our circumstances, He brings us through them. Sometimes instead of answering our prayer the way we wanted, He answers differently. Sometimes we don't understand the way God works. Sometimes things don't go the way we would have hoped or the way we asked. But it doesn't mean that God is breaking the promises His word has told us.
But let me encourage you today that God always knows what He is doing. God is good. We can believe that. But what we need to believe even more than that is that He is good to me. God is good to me.
God has an amazing story for our life. Sometimes it comes with a little hurt and a few bumps and bruises. We won't always understand it. But God, He isn't keeping anything from us and He most definitely isn't breaking any promises. He knows exactly what is good for us, and His plan is so much greater. God is always at work. He is always working to bring you closer to Him, to take you further than you are right now. He knows what He is doing and even when it doesn't make sense He just wants you to trust Him.
God wants you to trust that He is good.
God wants you to trust that He is good to you.
God wants you to trust.
There are no broken promises with the Lord, He is just setting you up for something bigger. Just trust sweet friend, He won't ever let you down.
(Visited 264 times, 1 visits today)