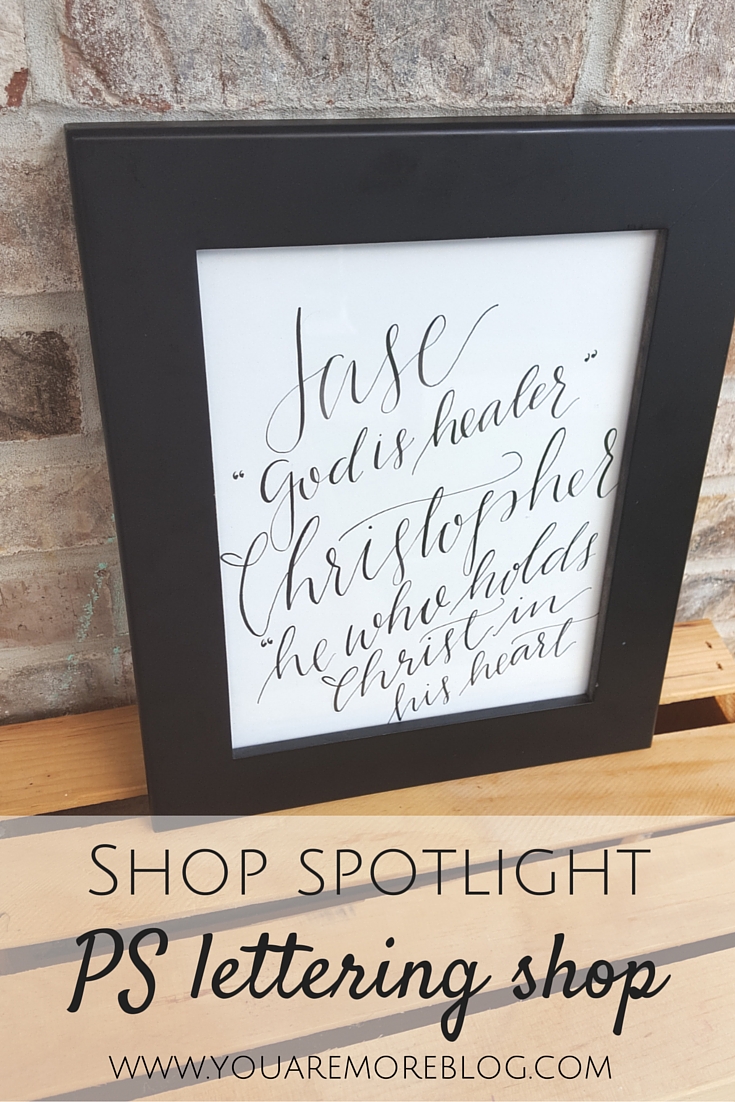 Disclaimer: I received this product in exchange for my honest opinion. No other compensation was given. All opinions are my own.
We are kicking off Jase's birthday week with a lot of celebration and tissue. I mean seriously, how did three years go by that fast? I am now officially closer to him starting school than I am the day he was born. Pass the tissue please, the tears are flowing.
Since our little man is becoming not so little anymore, we decided our big gift to him would be transforming his room into a big boy room. When we moved to our new house we painted and then just left it pretty bare. We didn't want to spend all this time duplicating his nursery when we knew the time was coming to change it. So, as we have been approaching his big day we've slowly been redoing his room to give it more of a big boy feel.
We did a great job making Elyse's room something she could grow into for years, but not so much with Jase. So we wanted to focus on something he could really grow into so we didn't find ourselves needing to redo it again in a few years.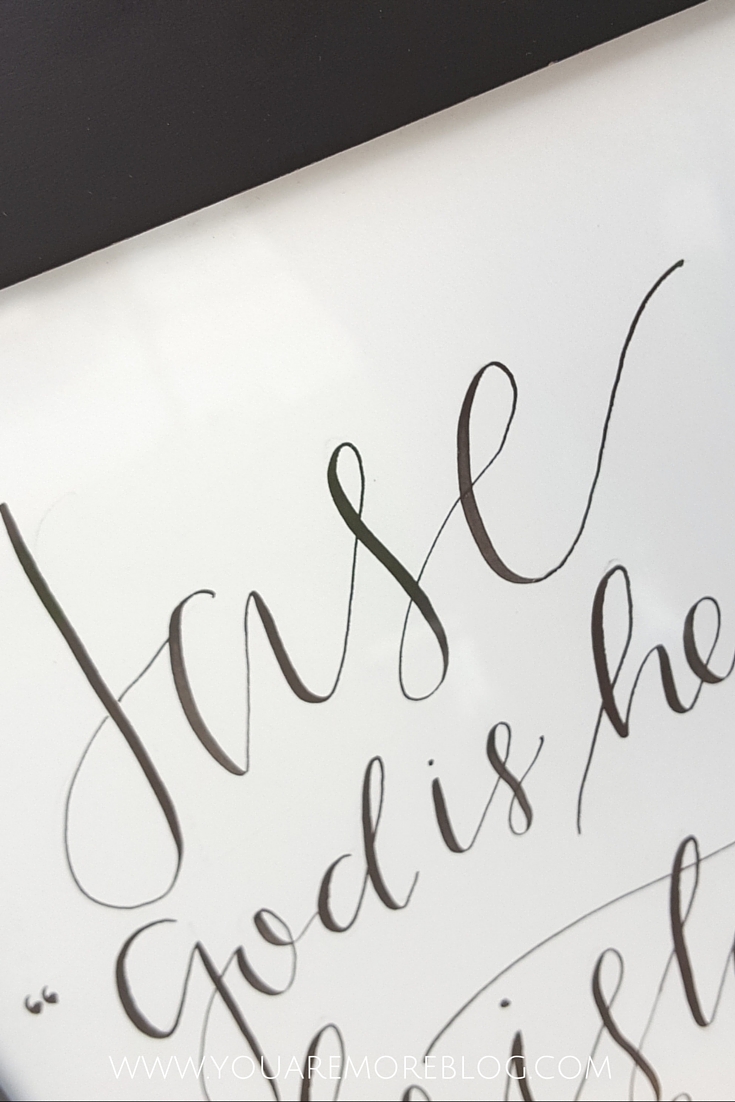 One of the most important things to us to include in his room was his name and the meaning behind it. We did the same thing for Elyse's room and it's one of our favorite pieces in her room, and my husband has been asking to do the same for Jase. When I came across the beautiful work Rachel has in her shop I fell in love. Do you ever just look at someone's handiwork and think, why couldn't I have those creative genes? I can't even write this pretty every day. Her work is just beautiful. So much so I couldn't stop with just Jase's room and I had to get a few unique pieces of my own.
Rachel is absolutely beautiful inside and out. I haven't even met her face to face but in my correspondence with her I know that she could quickly become one of my best friends. She is such a sweetheart. I know you'll think the same thing once you hear more about the heart behind her business.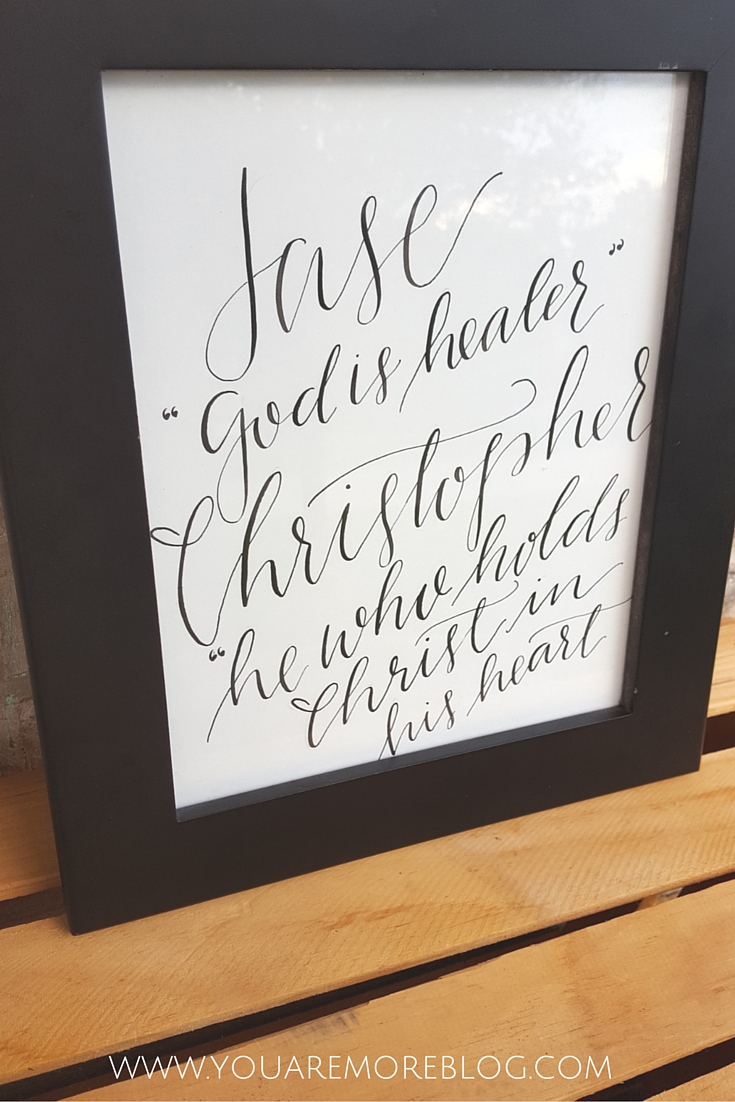 How did you get started with PS Lettering Shop?
About a year ago, I decided that I really wanted to learn calligraphy. I stumbled onto a blog called "The Postman's knock" written by Lindsey Bugabee, and I instantly fell in love. I started researching what I could do to learn and get supplies. I got started by just trying out the alphabet and some of Lindsey's printables from the blog. I quickly discovered the need for higher quality supplies, got some and then took an online class! Last summer I sent a goal to get an etsy shop open by the end of the year, and started working toward that. I am a full time teacher, and having a hobby that could help me unwind after my long days has been such a good thing for me! I've always wanted to have a way to sell something I've created but just didn't know what until I started with calligraphy. I opened PS Lettering Shop in November of 2015, and got more orders than I thought I would! I started with mostly Christmas items– but quickly started getting messages about making custom prints. It's kind of taken off from there!
What do you specialize in making?
My focus is custom prints! I love turning people's visions into reality and hearing the stories behind them. I have also gotten a lot of experience lately with doing wedding place cards! I am expanding my shop and my skills to wedding invites as well– but those aren't specialties yet. 🙂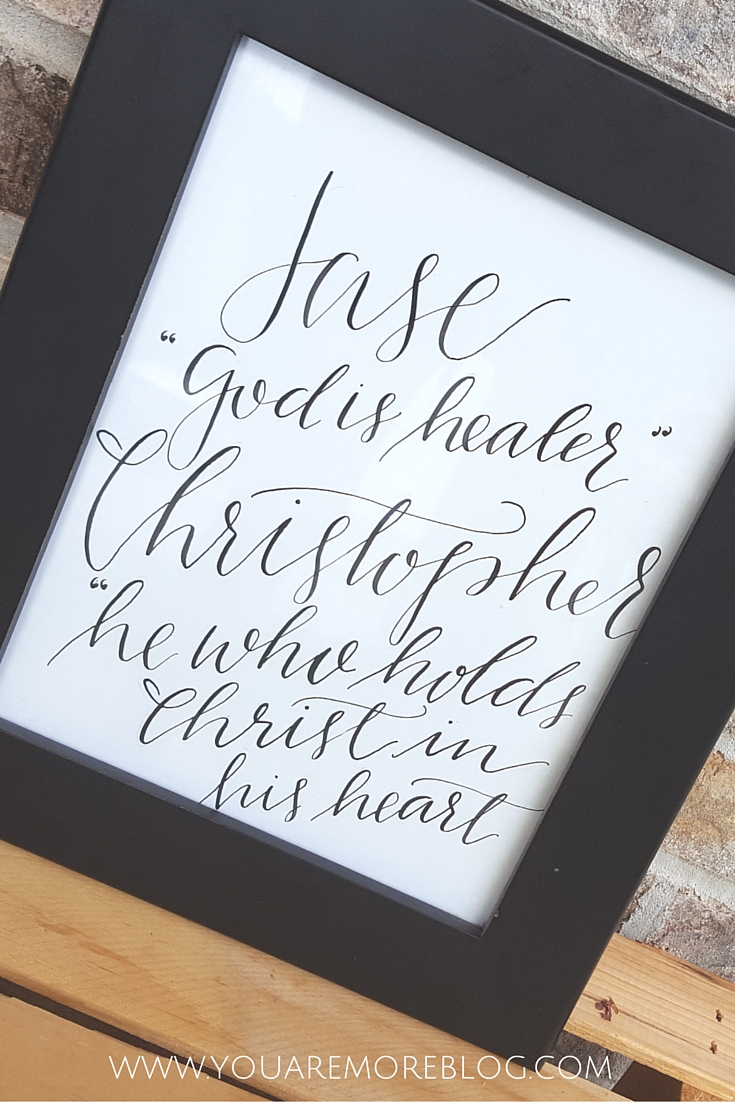 What do you enjoy making the most?
Like I mentioned, I LOVE doing custom prints for people, and hearing about their story. So many times, I've gotten to hear about why a phrase is significant, or who will receive a gift. I also really enjoy including little extras for my brides with their orders. It's fun to get to bless people with my art!
Where does the name behind your shop come from?
I decided on PS lettering shop, because of my love for "snail mail". Whenever I write a letter, I always include something as a "P.S." or post script. I think the best part of the letter is the PS! It's like this extra little something that just makes the letter. I sort of took that concept and turned it into a shop name. I hope to brighten homes and lives with a little something "extra" I've created. 🙂
Anything else about the heart behind your shop you would like to share with us?
I really just love creating, and getting to interact with customers! It's so awesome to get to know a little bit about who they are through their orders.
Rachel is such a sweetheart she even offered to throw in some prints for me too. I couldn't have imagined a more beautiful way to display these words in my home. Her watercolor calligraphy prints are just stunning. I have a special place in mind for these beautiful pieces that I'll have to show you once the area is finished, but I couldn't resist sharing them with you now.
Because we loved them so much she is offering these prints as a digital download for you! They are both just $1.99! Use code YOUAREMORE for $5 off (You must purchase a minimum of $13.50). There will also be a big giveaway at the end of the week, so be sure to keep an eye on Instagram to enter! For now, hurry over to her shop and use this discount code and snag something beautiful for your home.
(Visited 44 times, 1 visits today)