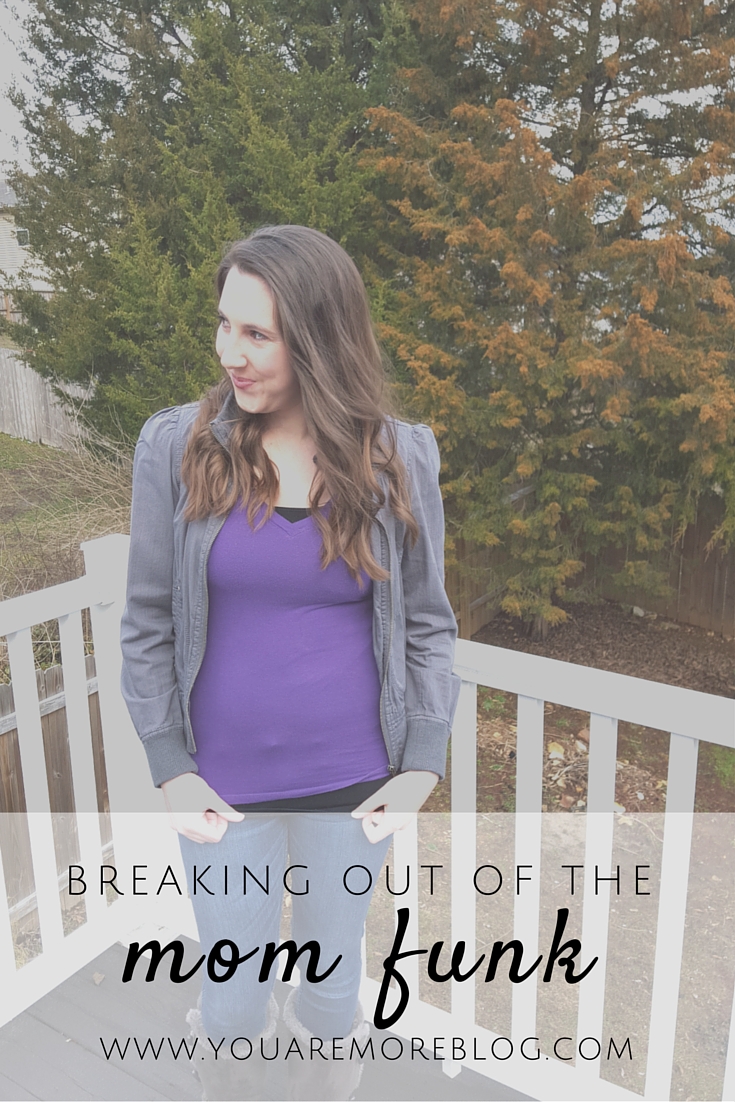 Something hit me recently and I realized I've kind of forgot about me. Somewhere in the midst of changing diapers, cleaning up a million cheerios, taking care of a home, working, blogging, and the list goes on I have neglected to take care of myself. Hearing that list, and knowing you probably have one of your own, you're probably not surprised.
Now, it's not like I'm not showering or brushing my teeth. Although there may or may not be times that I completely (but innocently) forget. It's not like I am wearing clothes out of the dirty laundry. I haven't completely let myself go, but I have taken myself off the priority list. I am so busy making sure everyone else is tended to, everyone else has closets full of clothes, and a collection of their favorite drinks and snacks. It's not a bad thing, but I'm realizing I have to remember I matter too.
If my kids are dressed head to toe in cute clothes that fit, but I can't find anything I am comfortable in except leggings and the same top I always wear it's going to put me in quite a funk. So today I am saying no more. Today I am saying that it's okay to do a few things for me too. It's okay to remember that even while I am taking care of everyone else, I matter too.
I am going to go out on a limb here and say, I bet you can relate. You don't have to be embarrassed or feel bad because I am sure all us moms have to come to this realization at some point. Once we do, it's time to break the mom funk.
Here are a few things you can do to do just that:
1. Buy yourself a new piece of clothing. I know raising small children doesn't leave much room in the budget, but remember they don't have to be the only ones with stylish clothes. It isn't fair if everyone in your family is dressed nice for a day out and you can't find anything you own that you've been comfortable in since college. Maybe make it a point to pick up one new thing for yourself a month. Over time, you'll find that you can be comfortable in clothes that are in your closet and not feel like you have nothing to rock that mom body. Mom bodies can be hot, be proud of your baby making self!
2. Learn a new hair do. This one may not be for you, but it is one hundred percent for me. I have this wish deep inside my soul that cries out saying "I want to learn to curl my hair!" I can't get my hair to do the curls I want for anything. But, I have taken a nap time or two on a Wednesday since we have church that night, and have played around with the curling iron. I've curled my hair! You know what happened? I felt cute! I felt like I broke the mom funk! You don't need a reason except to feel like a human again! So, I am sure you have that mom bun perfected, so try something new!
3. Get out of your pajamas. Don't gasp. I heard you. I know you want to be comfortable all day, I get it. But trade those pajama pants or sweats in for yoga pants or leggings. They are both comfortable, but they don't look frumpy. You can throw on a cute v-neck, boyfriend shirt, or something even cuter if you're feeling it. It's amazing how just a simple change can make you feel so much better about yourself. Then if someone shows up on your doorstep you can feel confident answering that door. Go on girl, you look good.
It's amazing what small steps can do to help you break out of that mom funk. Just a few simple things can make you feel so much better about yourself. You one hundred percent deserve to be taken care of too. Don't forget that.
What do you do to break out of the mom funk? How do you remember to take care of yourself too?

(Visited 135 times, 1 visits today)