This shop has been compensated by Collective Bias, Inc. and its advertiser. All opinions are mine alone. #SendHallmark #CollectiveBias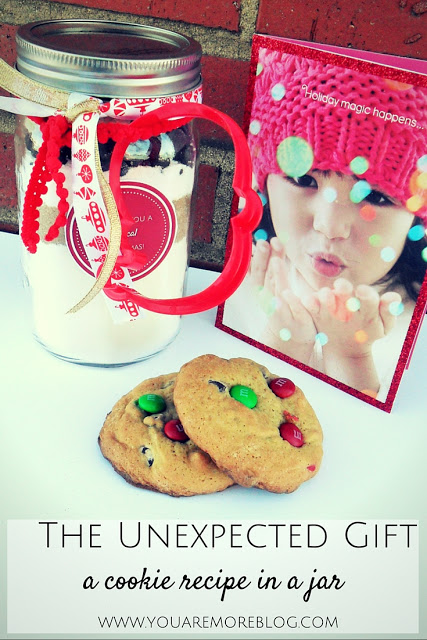 There really is something magical that happens with people around the Holidays. You start to see the kindness in people more than ever before. People start looking for ways to bless those around them. People start looking for ways to brighten someone's day in the most unexpected ways. This is something I just love about the Holidays. I love seeing people at their best seeking to encourage those around them.
Christmas brings people the most joy when they look at it as an opportunity to give to others. The best kind of gift is the unexpected gift, the one that is given to people so deserving, yet often forgotten. This year, as a family, we really tried to think of people who do so much for others, but often don't get noticed for what they do. People, that if their job wasn't done, you would realize it, but they aren't often thanked for doing their job.

So I went to Wal-Mart to look for the perfect card to get out what was in my heart. Hallmark has a beautiful selection of cards, and their Holiday ones are perfect for giving. Click here to save $1.00 off of a two Hallmark Greeting Card purchase at Walmart, minimum $1.00 purchase required. Take advantage of the savings and #SendHallmark this holiday season! I was so surprised to find the perfect card to convey my heart with these unexpected gifts in the Hallmark section. I picked up a few and decided to put a gift together to go along with them.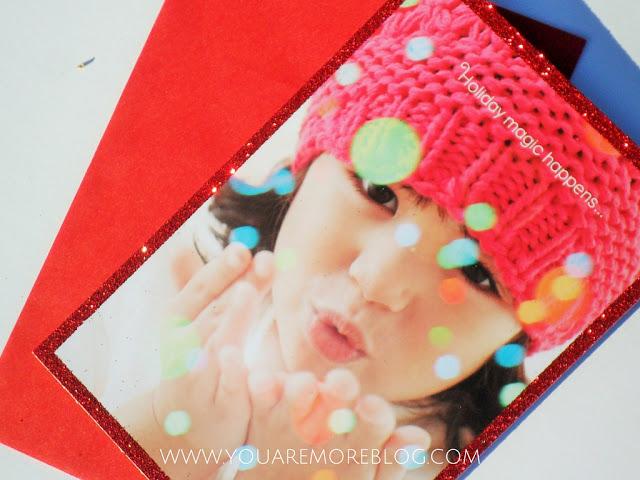 Everyone loves a good recipe in a jar and they are perfect for Holiday gifts. I put together one of our most loved cookie recipes and added a Christmas twist to it and placed all the ingredients in a jar to give with a Hallmark card. And because I absolutely love all of you, I'm going to share this recipe with you. It's the cookie recipe we use for everything, and not one person isn't begging for the recipe after they try them.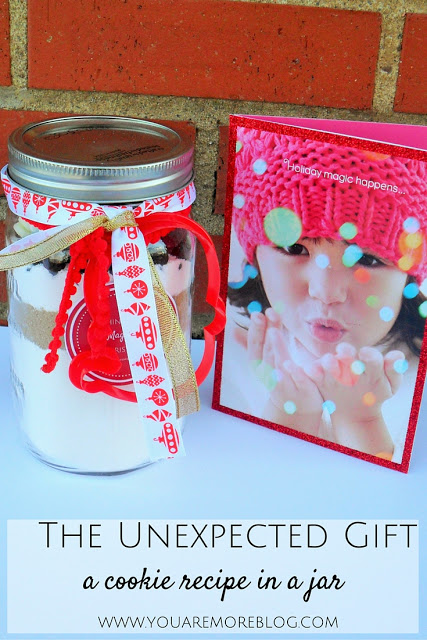 Here's what you need:
Wide Mouth Mason Jar
Ribbon
Cookie Cutters
Ice Cream Scoop
Recipe Ingredients:
2 1/4 C. Flour
1tsp. Baking Soda
3/4 C. Brown Sugar
1/4 C. Sugar
Vanilla Instant Pudding Mix 3.4 OZ
1/2 C. Chocolate Chips
1/2 C. White Chocolate Chips
1/2 C. Red & Green M&M's
So here's how to put your recipe in a jar together.

First combine the flour and baking soda and pour them into your jar. Pack it down with an ice cream scoop as much as possible.

Then add your brown sugar. This will pack better than the flour and help hold everything in your jar into place. So make sure to pack it down good!

Next add your sugar and the instant pudding mix. Pack that down as well.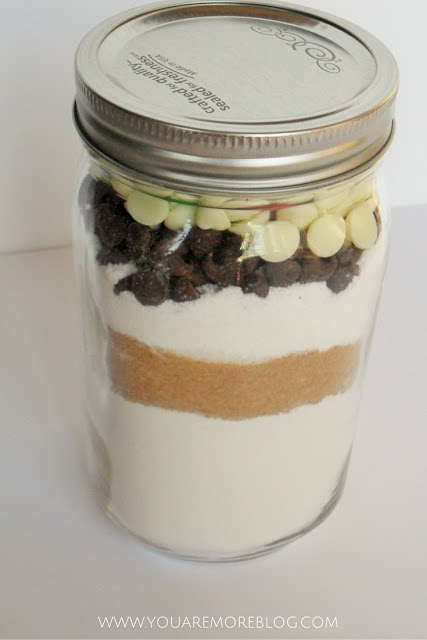 Top it off with chocolate chips and M&Ms and there's your recipe in a jar!
You'll need to add the instructions to the outside of the jar, so I made a printable that you can print here. Use double sided tape and tape it to the outside of your jar.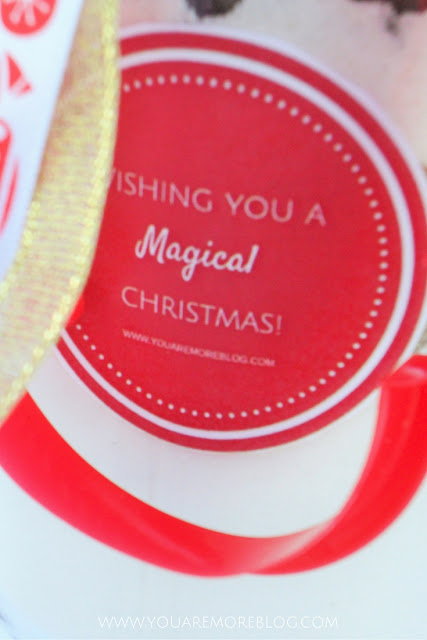 Then take some Christmas ribbon and cut it long enough to wrap your jar and hang off a little. Use one of the ribbons to tie the cookie cutter to your jar, and then the other two just to help add some decor to it.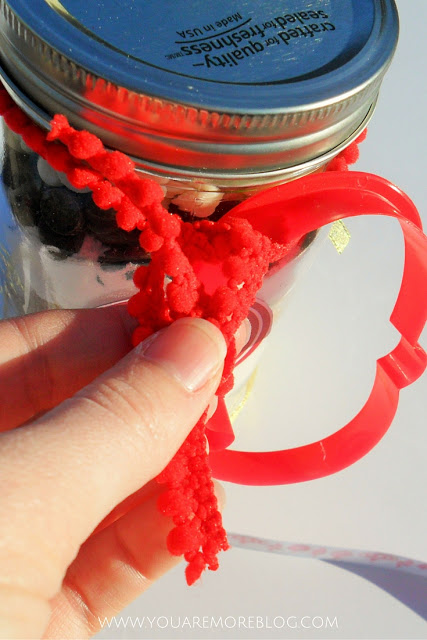 Now you have the perfect gift to give with a Hallmark Christmas card. I left a card and our recipe jar in the mailbox for our mail lady to find and I hope it brings some Holiday magic into her life. We also decided to give a jar to the cleaning lady and maintenance guy at church because they do so much behind the scenes for our church.
You can also check out the Hallmark Pandora station for some perfect music to get you in the giving mood this year.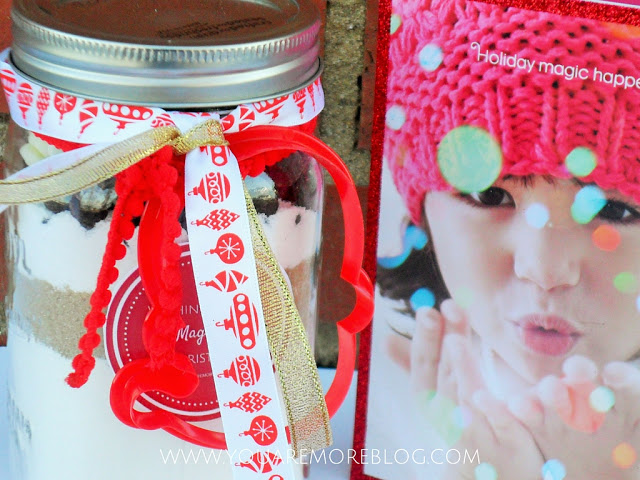 Who can you bless this Holiday who would not be expecting it? Do you have a favorite cookie recipe you would use for a recipe in a jar?

(Visited 24 times, 1 visits today)