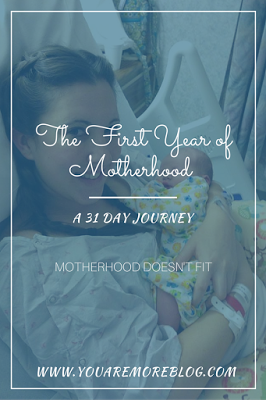 Every mom I have come into contact with has hit a place in
their mothering journey where they realized that motherhood just didn't fit.
Motherhood didn't fit with their way of life and the way they did things
before. They no longer had this freedom to do anything they wanted whenever
they wanted because there was this tiny human that had something to say about
every decision they made. I have had conversations after conversation with many
mothers who found themselves hitting this wall realizing things for them were seemingly
falling apart. Their baby was unhappy, their baby wasn't sleeping, their baby
was always crying and therefore mom was never sleeping and mom was never happy.
It was a vicious cycle that came full circle. It was at this moment that they
realized motherhood just didn't fit into their life.
You're probably wondering if I am saying these women were
never meant to be mothers. You're probably wondering if what I mean by this is
that they weren't ready to be mothers in the first place. But that is not what
I am saying it all.
Being a mother isn't just something that fits into your
life. Being a mother is something that becomes an intricate part of your life. Being
a mother isn't supposed to fit into this already designed puzzle as this missing
or added piece. Motherhood is supposed to be another piece to the barely
finished puzzle because it plays a huge part in the end result.
One of the biggest and most important realizations a mother
must come to is the fact that their child isn't supposed to fit into their
already perfectly ironed out life, a child is going to come and give this life
an entirely new shape and an entirely new path to the end destination. The
destination may be the same, and it may be entirely different, but the path
there is bound to change when you become a mother.
One of the most important things I had to realize is that I
am a mother. My responsibility is to be the best mother that I can possibly be
to my child. This means letting a few things go. I can't pack my days full and
drag my baby around with me and expect for them to be happy. Part of my job as
a mother is catering to his needs for enough sleep during the day, plenty of
food, and time just to play. I can't expect him to take care of himself while I
get everything done that I wanted to today. It doesn't always work that way. A
lot of my life, a lot of choices I would have made has all changed to accommodate
my role as a mother to my son. It's probably one of the hardest adjustments in
becoming a mother, because it can get lonely. It can get lonely spending many
of those early days at home to give your little one the rest their little body
needs. It can be hard when you realize motherhood doesn't fit right into the
way you have always done things. But like everything in motherhood, it only
lasts a season. One day they won't need as many naps, and you'll have more play
dates. One day they won't even be home, and you'll be counting down the hours
until their bus drops them off.
The beauty of motherhood is its ability to come into your
life and turn it upside down creating this beautiful picture you never would
have painted on your own. It doesn't fit into your life, it becomes a new part
of your life bringing with it entirely new adventures. Motherhood doesn't fit
into who you are; it becomes a part of who you are. It changes things, but for
the better, adding another piece to the puzzle to one day be finished that will
tell the beautiful story of your life.

(Visited 20 times, 1 visits today)